Native American tribes and environmental groups have sued to stop Hudbay Minerals Inc., arguing its mine could desecrate sacred, ancestral lands and dry up wells and waterways while ravaging habitat for endangered jaguar and other species.
A San Francisco reporter is seeking the return of property after police raided his home with a sledgehammer, as officials sought to determine the source of a leaked police report into the death of the city's public defender.
Just what constitutes an expression of consent is a hotly debated topic in the justice system and in society at large.
President Donald Trump is using "treason" rather lightly as he assails unidentified U.S. officials for investigating operatives of his campaign in 2016. There's no allegation or even suggestion that they committed any actual crime.
For years, when Bokoshe residents were outside, the powdery ash blowing from the trucks and the ash dump on the edge of town would "kind of engulf you." Their experience might foretell similar fates for other towns.
Hundreds of demonstrators marched to the Alabama Capitol on Sunday to protest the state's newly approved abortion ban, chanting "my body, my choice!" and "vote them out!"
The federal appeals court ruled Friday the Trump administration acted in an "arbitrary and capricious" manner when it sought to end an Obama-era program that shields young immigrants from deportation.
It was the dress blue uniforms that drew John Thompson to join the U.S. Marines, where black men were not welcome, so he could defend a country that denied him the rights he wanted to fight for.
Unveiling a new immigration plan, President Donald Trump said he wanted to provide a sharp contrast with Democrats, and he did — aiming to upend decades of family-based immigration policy with a new approach.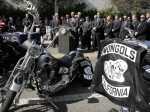 A federal judge on Friday fined the Mongols motorcycle club $500,000 in a racketeering and conspiracy case but refused the latest effort in a decade-long attempt by the government to take away the club's control over its logo.