For the first time in the United States, you can legally bet on one of pop culture's biggest nights.
Let Democrats have their way, President Donald Trump suggested, and the United States will become a country without border security, airplanes or cows.
Congressional negotiators reached agreement to prevent a government shutdown and finance construction of new barriers along the U.S.-Mexico border, overcoming a late-stage hang-up over immigration enforcement issues.
There's growing evidence that long-term exposure to the perfluoroalkyl and polyfluoroalkyl compounds, or PFAS, can be dangerous, even in tiny amounts.
Sheriffs in a dozen Washington counties say they won't enforce the state's sweeping new restrictions on semi-automatic rifles until the courts decide whether they are constitutional.
An Israeli Holocaust historian praised authorities in Finland on Sunday for publishing a report that concluded Finnish volunteers serving with Nazi Germany's Waffen-SS "very likely" took part in World War II atrocities.
Prosecutors are asking a judge to order a Massachusetts woman to begin serving her 15-month jail sentence for encouraging her suicidal boyfriend to kill himself.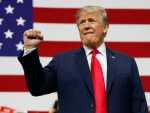 With Democrats now controlling the House and holding the legal key to seeking President Donald Trump's tax returns, Republican lawmakers are invoking privacy in defending Trump's flank.
Democrats including Rep. Alexandria Ocasio-Cortez of New York are calling for a Green New Deal intended to transform the U.S. economy to combat climate change and create thousands of jobs in renewable energy.
Last year's shooting at a Florida high school sparked a movement among a younger generation angered by gun violence and set the stage for a significant shift in America's gun politics.