1 thru 10 of 1368 Stories
Google's self-driving car spinoff Waymo said Tuesday it will bring a factory to Michigan, creating up to 400 jobs at what it describes as the world's first plant "100 percent" dedicated to the mass production of autonomous vehicles.
Toyota Motor Corp. and Panasonic Corp. are setting up a joint venture to research, manufacture and sell batteries for ecological autos, an increasingly lucrative sector amid concerns about global warming.
Some new 2019 vehicles offer shoppers a way to get both all-wheel drive and great fuel economy.
Tesla will cut 7 percent of its workforce as it tries to lower prices and break out of the niche-car market to produce an electric vehicle that more people can afford.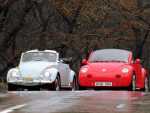 Volkswagen Group says that it will pay a fine of 1 billion rupees ($14.2 million) imposed by India for installing software that allegedly cheated pollution testing devices, though it is still appealing the order.
Despite a government shutdown, Hyundai and Kia are moving ahead with a recall of about 168,000 vehicles to fix a fuel pipe problem that can cause engine fires.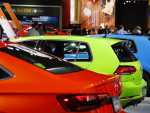 After traversing Cobo Center's massive exhibition space and ticking off the automakers, you'll notice what's not there: Namely BMW, Mercedes, Porsche, Audi or Mazda.
Volkswagen and Ford say they're forming a global alliance in which they will together develop commercial vans and medium-sized pickups while exploring broader cooperation on battery-powered and autonomous vehicles.
Automakers have promised to start selling hordes of electric cars in the next few years, but only two will be unveiled at the big Detroit auto show that kicks off this week — and those aren't even ready for production.
Every racing series in the world is full of wealthy enthusiasts with ideas that sound too good to be true. Expensive promises to fund life-changing opportunities are usually broken before cars even make it to the track.
1 thru 10 of 1368 Stories