Drivers for ride-hailing giants Uber and Lyft are planning to turn off their apps to protest what they say are declining wages at a time when both companies are raking in billions of dollars from investors.
BMW lost money making cars in the first quarter as its automotive division was hit by a 1.4 billion-euro ($1.6 billion) set-aside for an anti-trust fine from the European Commission and by higher up-front costs for new technology and factories.
Tesla CEO Elon Musk is more than doubling the stock he will buy in a new public offering in an apparent bid to earn investors' confidence as he tries to turn around his struggling electric car company.
Rental car companies, airport authorities and local governments say users of car sharing apps should pay the same taxes and fees that come with traditional rental cars.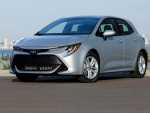 The 2019 Toyota Corolla and the 2019 Mazda 3 are two of the newest small hatchbacks on the market. Edmunds compares them so you can find out which one would work best for you.
The Insurance Institute for Highway Safety says in a new report that safer restraint systems are needed for the back seats of cars.
Summer is just around the corner, and that means it will soon be warm enough to visit a few dealerships and test-drive the new convertibles you've been eyeing all winter. But which one to buy?
German automaker Daimler, which makes armored limousines used by North Korean leader Kim Jong Un, says it has no idea where he got them and has no business dealings with the North.
Google's self-driving car spinoff Waymo says it will reopen an axle plant in Detroit to convert conventional vehicles so they can drive autonomously.
Ask those involved in self-driving vehicles when we might actually see them carrying passengers in every city, and you'll get an almost universal answer: Not anytime soon.