Watch: Lady Gaga Slams Mike & Karen Pence Over LGBTQ Views, Christianity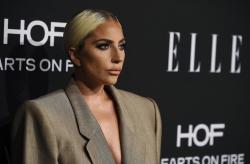 During a recent performance at her Las Vegas residency, Lady Gaga took the time to call out Vice President Mike Pence and his wife Karen over their LGBTQ views, NBC News reports.

The moment came when the Oscar-nominated actress paused in the middle of her song "Million Reasons," which she was performing in front of a crowd of 5,000 fans.

"To Mike Pence, who thinks it's acceptable that his wife work at a school that bans LGBTQ, you are wrong," she said.

Her comments come after Mike Pence defended his wife for returning to work as an art teacher at an evangelical Christian school in northern Virginia that bans LGBTQ students, parents and employees.

"You say we should not discriminate against Christianity. You are the worst representation of what it means to be a Christian," Gaga, sitting behind a piano, added.

After a backlash ensued when it was reported Karen Pence was teaching at the school, the vice president called the response "deeply offensive" to see "major news organizations attacking Christian education."

"We have a rich tradition in America of Christian education, and frankly religious education broadly defined," he said during an interview with the Catholic cable network EWTN. "We'll let the other critics roll off our back, but this criticism of Christian education in America should stop."

Watch Gaga's comments below.
Comments on Facebook