1 thru 10 of 2568 Stories
Across the U.S. and in many places abroad, transgender athletes are breaking barriers in high school, college and pro sports and being embraced by teammates and fans. But resentments can still flare,
Since being posted earlier this month a video of Canadian swimmer has gone viral with nearly 1,000,000 views on YouTube. But it is not because of his diving prowess
Chanel's iconic couturier, Karl Lagerfeld, whose accomplished designs as well as trademark white ponytail, high starched collars and dark enigmatic glasses dominated high fashion for the past 50 years, has died. He was around 85 years old.
Retailers and top fashion brands like Gucci and Prada keep apologizing for products that smack of racial insensitivity. The big question is: Why does it keep happening?
Organizers of Pope Francis' summit on preventing clergy sex abuse will meet this week with a dozen survivor-activists who have come to Rome to protest the Catholic Church's response to date and demand an end to decades of cover-up by church leaders.
British lawmakers issued a scathing report Monday that calls for tougher rules on Facebook to keep it from acting like "digital gangsters" and intentionally violating data privacy and competition laws.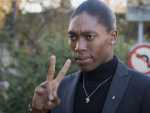 Caster Semenya arrived at the Court of Arbitration for Sport on Monday for a hearing in a landmark case that will challenge science and gender politics.
In the nation's capital, it can be hard for protesters to stand out. A group of 50 people — or even 500 — holding signs and shouting hardly merits a second glance in this city of protests.
Japanese Prime Minister Shinzo Abe kept quiet Monday over President Donald Trump's claim that he had nominated him for the Nobel Peace Prize, but praised him and emphasized he did not deny doing so.
A new piece from the New York Times looks at the subscription service OnlyFans and speaks with Matthew Camp, a popular 34-year-old go-go dancer from New York who found success on the platform.
1 thru 10 of 2568 Stories