With a high concept and original script, two significant Hollywood talents (three if you count Will Smith twice) and all the muscle of a major studio release, Ang Lee's new film had the potential to redefine the spy genre. Alas, not so much.
Director Jon Favreau's remake of "The Lion King" is one of the most terrifying films of the year. In the new string of Disney live-action adaptations, this one may be the most wrongheaded of them all.
When Ramin escapes Iran where is persecuted for being gay, he ends up in Veracruz — where he still feels he cannot be himself.
Kerry Washington is the latest A-lister to join Ryan Murphy's upcoming Netflix movie "The Prom," based on the Tony Award-nominated queer musical of the same name.
Aaron Paul returns as Pinkman in the Netflix film "El Camino: A Breaking Bad Movie," which premieres Friday on the streaming service. The movie has cameos from some of the show's best characters.
Ang Lee's conversion began with "Life of Pi."
At the juncture between art and athleticism John Curry helped transform a sport.
Mak CK's document "One Taxi Ride" follows Erick, a Mexican citizen and survivor of sexual assault, as he struggles to put his life back on track while living in a macho culture where he's absorbed the message that men must be strong and stoic.
If you are looking to be outraged, look no further than "The Laundromat," Steven Soderbergh's breezy new comedy about, well, how we are all screwed... unless we do act up and do something.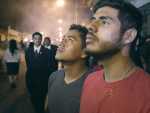 This stunning award winning coming-of-age tale with world-wide appeal is only the 2nd LGBTQ movie to be made in Guatemala.