Kristin Chenoweth's latest recording pays tribute to the great female vocalists who inspired her.
Kristin Chenoweth is heading back to Broadway in November for a one-week engagement to celebrate her newest album, "For the Girls." EDGE spoke to the Tony-winning Broadway star about how the new album came about.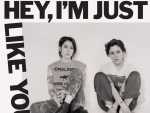 The Canadian duo release their enjoyably infectious and urgent ninth album "Hey, I'm Just Like You" in tandem with their new memoir "High School."
Jennifer Lopez and Shakira are going to bring the heat to the 2020 Pepsi Super Bowl Halftime Show.
Tove Lo is bright and plucky on "Sunshine Kitty" her fourth-album is proving the staying power this artist has and a skillful ease with dancable licks and lyrical hooks that will turn you on.
Sam Smith, who came out as nonbinary earlier this year, has received mostly supportive social media feedback on their announcement. One high profile critic, however, was Piers Morgan, who, on "Good Morning Britain," mocked the singer's identification.
There was an extraordinary array of forces brought together for the opening program of the Boston Symphony Orchestra's season this past Thursday night in Symphony Hall: an oversized orchestra, seven vocal soloists, a mixed chorus, and two piano soloists.
Just out of college, soprano Maureen Brennan landed the coveted role of Cunegonde in the 1974 Broadway revival. In this interview, she looks back at her career as she prepares for her Oct. 15 cabaret show at Boston's Club Café.
Philip Glass & the Philip Glass Ensemble accompanied a screening of 'Koyaanisqatsi' in Boston on Friday night. To hear his score live while watching the film was an event to cherish.
"If I thought I'd be doing this job at 70 years old, and you're still coming to see me," joked Billy Joel on the stage at Fenway Park this past weekend.