To paraphrase a famous lyric, there is nothing like Bernadette Peters. As a Broadway superstar of a certain age, she looks amazing and has never sounded better as she did with the Boston Pops and conductor Keith Lockhart on Wednesday night.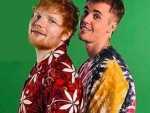 Though he recently said he was taking a step back away from music, Justin Bieber announced this week that he's teaming up with Ed Sheeran for a new single called "I Don't Care."
Palestinian artists are calling on Eurovision song contest contestants to boycott the international music competition that Israel is hosting next week.
EDGE catches up with rock star, cat lover & socialite Mrs. Smith as she heads to Cambridge for a show Thursday night.
Adam Lambert took to social media this week to reveal his fourth album.
Madonna has announced the U.S. dates for her "Madame X Tour," supporting her 14th studio album of the same name.
EDGE headed to Austin to visit some of Recovery Unplugged's facilities and learn firsthand how music is transforming and redefining addiction treatment and recovery.
Actor Taron Egerton, who plays Elton John in the upcoming biopic "Rocketman," shared his cover of "Rocket Man" (along with a video) ahead of the film's debut at the 2019 Cannes Film Festival later this month.
Madonna is sharing another song from her forthcoming album "Madame X."
Lucia Lucas has taken one of the most difficult paths to her American professional opera debut.