Julia Sweeney: Older & Wider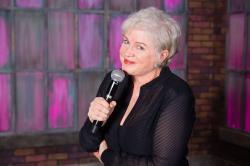 After a ten-year hiatus to raise her daughter in Chicago, funny lady and SNL alum Julia Sweeney is back on stage and boy is she better than ever. When comedians (and actors) get older, sometimes either their humor gets dated (dad jokes!) or their grumpy irritations come to the surface making them seem out of date and/or out of touch.
Not here! Julia Sweeney is as fresh and on-the-ball as ever. Her amused delivery and endless stories are consistently hilarious causing permanent smiles on the audience's faces and the wish that the night could go on for more than the brief 90 minute running time.
Sweeney, who's had three acclaimed "monologue" shows since her stint on SNL (and her big screen lark as the androgynous "It's Pat") returns to the stage — and to Hollywood — now that her daughter Mulan is in college. Yes, Mulan. "You mean like the Disney cartoon?" Sweeney has an amusing story of how her daughter came to be named after the Chinese princess, but I'll let you discover that for yourself.
Sweeney's first monologue show was about her battle with cervical cancer "And God Said Ha," her second "In the Family Way" was about, obviously, her family, and her third "Letting Go of God" was about her journey toward atheism. After leaving the business to become a soccer mom/house-wife, she's back with "Julia Sweeney: Older & Wider" which focuses squarely on her time out of the spotlight.
Many of her stories revolve around her precocious daughter, her quiet husband, and trying to have a quiet normal life. She still participated in benefits and conventions where she spoke about her battle with cancer which leads to one of the best moments in the show where she introduces us to a woman she met who told an audience of cancer caregivers how to make their patients/ill family members "laugh." Suffice to say, I was hunched over with tears in my eyes from laughing so hard.
I forgot just how truly wonderful Sweeney's brand of comedy is: natural, down-to-earth, clever and at all times, relatable. She speaks candidly about her hatred of Trump and her atheism, but not in a way that would put-off those that don't agree with those choices. She makes subjects go down easy and her never-ending stories make you want to spend a night by a fire-pit, drinking wine, and letting her babble on for hours.
The current show's limited run ended this past weekend, but I really hope it is filmed. This is an absolute must-see/must-laugh event. I didn't realize how much I missed Julia Sweeney, and how much the world needs her brand of humor right now.
Welcome back!
Note: Sweeney brings the show back to Los Angeles on April 2 at the Largo at the Coronet. For details, visit the Largo website.
"Julia Sweeney: Older & Wider" completed its run on February 17 the Audrey Skirball Kenis Theatre at the Geffen Playhouse, 10886 Le Conte Avenue, Los Angeles. For more information about events at the Geffen Playhouse, visit visit the theater's website.
Her next performance of "Julia Sweeney: Older & Wider" takes place on Tuesday, April 2, 2019, 08:00pm at Largo at the Coronet, 366 N La Cienega Blvd, Los Angeles, CA, For more information on Julia Sweeney, visit her Facebook page.
Kevin Taft is a screenwriter/critic living in Los Angeles with an unnatural attachment to 'Star Wars' and the desire to be adopted by Steven Spielberg.
Comments on Facebook