Hamilton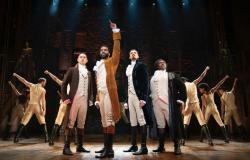 It's been two years since the curtain at the Orpheum last went up on "Hamilton", enough time to wonder whether the mystique of the show might have worn off a bit.
But only a few notes into the first number you could practically see the chills running through the audience. It's not just hype, "Hamilton" really is (still) that good.
Julius Thomas III is Alexander Hamilton, the previously obscure Revolutionary War figure and statesman. Thomas played A. Ham back in 2017 as well, but now seems much more open, approachable, and comfortable in the role than he did then.
Though much of the rest of the cast has been termed out since 2017, original Broadway director Thomas Kail still steers the ship.
It must be tempting to try to meet the show's now-towering reputation with lots of flashiness, but Kail seems a surprisingly down-to-earth kind of director.
Which is lucky, because a lot of spectacle could very well sink a show like this. "Hamilton's" best hand is convincing the audience that this is not a larger than life myth or even very impressive theater, but rather that it's all just real people; frail, opaque, often dissatisfying, ultimately sympathetic people.
Composer and show creator Lin-Manuel Miranda's famous score is just as conscious. It's not perfect—Miranda's big weakness is that as a lyricist he's a little heavy-handed, and having to cram so much history into three hours exacerbates the problem.
But it's hard to communicate just how mature and ambitious the music for "Hamilton" actually is in spite of this. Even hearing the original cast recording—or perhaps listening to it obsessively—isn't as meaningful as hearing a vocalist like, say, Sabrina Sloan (as Hamilton's almost too intimate sister-in-law, Angelica) deliver it.
The show takes time to give almost everyone a thoroughly thoughtful and moving number, and most get several. You could hypothetically cut a song like the soft but compelling "Wait For It" with Aaron Burr (Donald Webber Jr.) and people might not miss it, but "Hamilton" is the show it is specifically because it doesn't skip over moments like this.
Webber is not quite as gutsy as 2017's Joshua Henry played Burr. But his tremulous demeanor and reflexive caution do make the character's actions more understandable. Hamilton is forever chasing the idea of history, while Burr seems half afraid that history will run him over if he looks the other way too long.
It briefly seems as if "Hamilton" might be in danger of either Hamilton or Burr overshadowing the other. But, like history, it turns out the stage really is wide enough for them both.
If there's any weakness in this cast it is Oregon-based actor Simon Longnight, whose French accent as the Marquis de Lafayette is basically unintelligible.
His second act turn of Thomas Jefferson by way of obnoxious insult comedian is grating at first, but with time becomes an effective foil not just to Hamilton, but to the gravity of the entire story.
"Hamilton" employs fairly simple staging, with very few props or sets and only a handful of transitions that could be called formal scene changes.
Most of the stage is kept open so that Andy Blankenbuehler's precision choreography can tell more of the story.
The set that is there, an intriguing facade of bricks, ropes, and scaffold that blurs the line between scenery and practical stage, employs stairs and balconies to keep the ensemble moving on and off without crowding or complicating the scene.
Compare this to, say, "Hello Dolly" playing just down the street; a perfectly good production, but its many sets, scene changes, scrims, and tricks seem even more dated compared to the sharp, tight assuredness of the way "Hamilton" proceeds.
"Hamilton" will stick with the Orpheum for the better part of 2019, enough time perhaps to pay off some of the pricey tickets in installments.
Although this is not a once-in-a-lifetime show—it'll surely play again many times in the future—it's still not exaggeration to call it a once-in-a-generation kind of work.
"Hamilton" plays through September 8 at the Orpheum, 1192 Market Street. For tickets and information, call 888-746-1799 or visit ShnSF.com.
Comments on Facebook