A White Girl's Guide To International Terrorism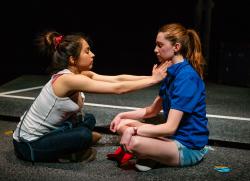 First things first, be very careful when Googling the title of SF Playhouse's new world premiere, "A White Girl's Guide To International Terrorism." Nobody wants an FBI algorithm sniffing around their browser history.
As promised by the title, much of writer Chelsea Marcantel and director Morgan Green's new show explores how unlikely people become drawn into violent movements in the Internet age.
But there's a second, potentially more provocative story too, about how anti-terror policies can themselves accidentally produce terrorists.
Unfortunately that tale somewhat undercuts the main one, and the play introduces it in a way that it leaves you questioning the validity of much of what happened before.
In "White Girl's Guide," Isabel Langen is Blaze, a small-town girl living in a lonely world — more specifically an impoverished working class Louisiana community.
Maya Linke's small-town set incorporates a faux parking lot, garbage beneath the risers (a nice touch), and a huge, blank billboard that dominates the stage but advertises nothing at all (possibly a little on the nose).
The billboard doubles as a screen for the audience to watch Blaze's YouTube videos, in which she narrates the lives of women war heroes and religious martyrs.
The green screen effect doesn't work very well onstage, and the channel doesn't really feel authentic. But the point is that she's restless and ambitious and feels no real connection to her surroundings.
Eventually Blaze attracts new online fans who encourage her creative outlets but soon begin to push her sympathies in potentially dangerous new directions.
Regular asides by Mohammad Shehata as a cagey FBI agent inform us that "isolation and boredom" are the variables that make young people most prone to terror recruitment. And that terrorist cells are motivated to attract foreign-born women to help establish families and communities in territory they occupy by force.
Shehata's smooth and polished demeanor is almost soothing during these vignettes. But they're also a bit intrusive; you sometimes wish he'd talk a bit longer rather than the show returning its core story so soon, which of course is a bit of a problem.
Similarly, there's a late-breaking reveal about his role in the story that's fascinating in its own right but feels like grist for another play entirely.
Marcantel underscores a lot of other silent social ills that could conceivably alienate someone to the point of disaster: permanent joblessness, self-loathing poverty, opiod abuse, fitful spirituality, and the persistent trend of creepy 20-something dudes dating high schoolers rather than face adult relationships, for example.
Each of these could also almost be a play in itself, but they mostly hover around Blaze's story rather than fertilize it.
She has a fascinatingly combative relationship with her mother (Arwen Andersen), who believes she's showing her daughter necessary tough love but doesn't realize she's making her vulnerable to predations. But there's never enough time for it.
Liz Sklar is Wafiya, the mysterious, anonymous woman assigned to lure blaze into ISIS via a series of increasingly aggressive messages.
Of all the relationships onstage this is the one we want to explore the most. But like much of "White Girl's Guide" Sklar is just not around often enough, and for reasons concerned with the arcana of the plot she's not allowed as fully into the part as we'd like either.
That leaves Langen to pull almost every part of the show together on her own. The best thing "White Girl's Guide" has to show for itself is how easily and naturally audiences will identify with the lead, so that by the time nearly two hours go by it feels as if Blaze really is a personal acquaintance of weeks or even months.
But the play leaves her dangling at the end, which means we're dangling too.
"A White Girl's Guide To International Terrorism" runs through March 2 at 221 Fourth Street, San Francisco, California. For tickets and information, call 415-677-9596 or visit the SF Playhouse website.
Comments on Facebook