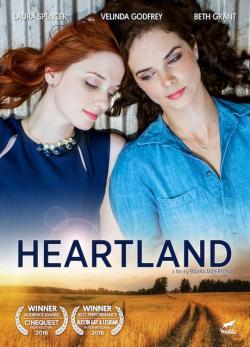 HEARTLAND

WINNER
Audience Award for Drama, Cinequest, San Jose's Int'l Film Festival
Best Performance: Velinda Godfrey, Austin Int'l Gay & Lesbian Film Festival

"A charming story" - SheWired.com

"If you were raised or reside in the South, if you come from a complicated family, if you have been touched by grief and loss, if you have ever questioned the life you were told you were supposed to live, then you need to see Heartland." - All the World's a Stage

"Not your typical coming out film . . .This story explores the shifting nature of sexuality, the limitations of love, and the definition of family, all driven by denial, and unexplored grief at the loss of a loved one." - Huffington Post

HEARTLAND tells the story of Lauren (Velinda Godfrey) a beautiful and vibrant woman who moves back home to live with her mom (Beth Grant) in Oklahoma after a tragic loss. When Lauren's brother comes home with his attractive yet uptight girlfriend Carrie (Laura Spencer) to help launch a local winery, he enlists both women to help. Soon, an attraction between the two women erupts, as Lauren rediscovers her sense of fun and Carrie questions her sexuality.

Featuring genuine and heartfelt performances from the three leads, including acclaimed veteran actress Beth Grant (co-star of three Academy Award-wining films: The Artist, No Country For Old Men, and Rain Man), the film features a fresh point of view: iit was written by, produced, and stars Velinda Godfrey, who wanted to tell a story about her midwest hometown (and who also surprised her Oklahoma classmates by bringing a girl to senior prom).

More Info:
https://www.wolfevideo.com/products/heartland/

Enter to win!

Thanks for visiting EDGE!
Enter this contest
If you already have an account with EDGE, all you need to do is log in; we'll pull your address information from your account and simply ask you to verify it. If you do not yet have an account with us, register now! It's easy and free, and you'll never have to type in your personal information again. If you prefer to enter this information manually, you can use the manual entry link below.
Register
Manual Entry
Click here for contest rules.
* Please be aware that creating multiple accounts for the same person will disqualify you.