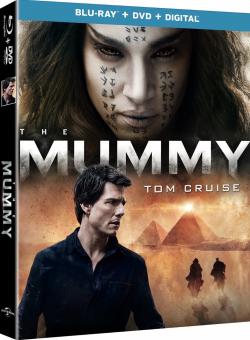 An ancient evil is unleashed after centuries of captivity and her lust for revenge threatens to destroy the world in The Mummy, a spectacular saga coming to Digital on August 22, 2017 and 4K Ultra HD, Blu-ray™, DVD and On Demand on September 12, 2017 from Universal Pictures Home Entertainment. Tom Cruise (Mission: Impossible franchise, Top Gun) battles the ultimate evil in a breathtaking version of the legendary and mystical monster that has captivated and terrified humankind for centuries. With more than an hour of never-before-seen bonus features, The Mummy 4K Ultra HD, Blu-ray™ and DVD reveal the deepest secrets behind this sumptuous and wonder-filled epic.

Thought safely entombed deep beneath the desert, an ancient princess (Sofia Boutella, Star Trek Beyond, Kingsman: The Secret Service) whose destiny was unjustly taken from her is awakened in our current day. Her malevolence has grown over millennia and with it come terrors that defy human comprehension. From the sands of the Middle East through modern-day London, The Mummy balances wonder, thrills, and imagination.

The latest action-packed entry from director and producer Alex Kurtzman (Star Trek Into Darkness, Now You See Me) and producer Chris Morgan (Fast & Furious franchise), The Mummy also stars Oscar® winner Russell Crowe (Gladiator, A Beautiful Mind), Jake Johnson (Jurassic World, "New Girl"), Annabelle Wallis (King Arthur: Legend of the Sword, "Peaky Blinders"), and Courtney B. Vance ("American Crime Story: The People v. O.J. Simpson," Terminator Genisys).

Special Features:

Deleted and Extended Scenes

Cruise & Kurtzman: A Conversation Rooted in Reality - Tom Cruise and Alex Kurtzman discuss the making of The Mummy.

Rooted in Reality - Filmmakers and cast reveal how they broke away from old tropes and traditions to create a dynamic and realistic 21st century monster movie.

Life in Zero-G: Creating the Plane Crash - Watch Tom Cruise, Annabelle Wallis, and the crew shoot the incredible plane sequence.

Meet Ahmanet - Sofia Boutella shares the excitement of reinventing a monster icon.

Cruise in Action - A behind-the-scenes look at Tom Cruise's most memorable Mummy stunts.

Becoming Jekyll and Hyde - Find out how the casting of Russell Crowe brought a bold new dimension to the roles of Jekyll and Hyde.

Choreographed Chaos - Watch as cast and filmmakers create an epic outdoors clash between ancient and modern worlds.

Nick Morton: In Search of a Soul - Tom Cruise describes what drew him to play a man seemingly without a soul.

Ahmanet Reborn Animated Graphic Novel - Witness Ahmanet's descent into the monstrous underworld as she is reborn into the Goddess of Chaos and Wrath.

Feature Commentary with director and producer Alex Kurtzman, and cast members Sofia Boutella, Annabelle Wallis and Jake Johnson

Enter to win!

Thanks for visiting EDGE!
Enter this contest
If you already have an account with EDGE, all you need to do is log in; we'll pull your address information from your account and simply ask you to verify it. If you do not yet have an account with us, register now! It's easy and free, and you'll never have to type in your personal information again. If you prefer to enter this information manually, you can use the manual entry link below.
Register
Manual Entry
Click here for contest rules.
* Please be aware that creating multiple accounts for the same person will disqualify you.