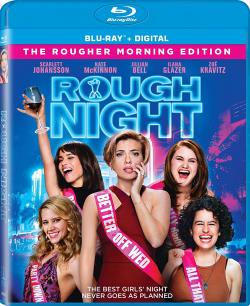 Experience one hilariously wild night out without leaving home when ROUGH NIGHT gets the party started on digital Friday, August 25, and on "The Rougher Morning" Edition Blu-ray September 5 from Sony Pictures Home Entertainment. Scarlett Johansson (Marvel's Avengers series), Kate McKinnon (TV's "Saturday Night Live"), Jillian Bell (Office Christmas Party), Ilana Glazer (TV's "Broad City") and Zoë Kravitz (TV's "Big Little Lies") give laugh-out-loud performances as college friends who reunite for a girls weekend getaway in Miami in this shockingly funny comedy directed by Lucia Aniello (TV's "Broad City") and co-starring Paul W. Downs (TV's "Broad City"), Ty Burrell (TV's "Modern Family") and Demi Moore (Charlie's Angels: Full Throttle).

Five best friends from college (Johansson, McKinnon, Bell, Glazer and Kravitz) reunite 10 years later for a wild weekend getaway in Miami. Their outrageous antics and hard partying result in hilariously unexpected consequences, which land them in a seemingly impossible situation to escape.

"The Rougher Morning" Edition Blu-ray and digital release feature exclusive bonus material including a Gag Reel, Deleted Scenes, Naughty Neighbor Diaries, Improv-O-Rama, plus DVD bonus material including a Scandalous Sing-Along and more behind-the-scenes fun with the featurettes "Killer Cast," "The Dynamic Duo: Lucia and Paul," "Playing Dead" and "Do a Little Dance."

ROUGH NIGHT was directed by Lucia Aniello and co-written by Lucia Aniello & Paul W. Downs. It was produced by Matt Tolmach (Jumanji: Welcome to the Jungle, Spider-Man: Homecoming), Lucia Aniello, Paul W. Downs and Dave Becky (TV's "Master of None," "Everybody Hates Chris"). Matthew Hirsch and Ben Waisbren are the executive producers.

SPECIAL FEATURES:

· Gag Reel - Laughing along with the ladies of Rough Night in this hilarious collection of outtakes!
· Deleted Scenes - 11 deleted scenes saved from the cutting room floor.
· "Naughty Neighbor" Diaries - Explore Pietro and Lea's one-of-a-kind sensual video dating profile.
o Video Dating Profile
o "Open Says Me" Questionnaire
· Improv-O-Rama - Catch all the improv alternate lines of dialogue in this Improv-line-o-rama!
· Plus DVD bonus material
· Scandalous Sing-Along - Follow the bouncing X-rated glasses with this original adult sing-along!
· "Killer Cast" Featurette - Hear from your favorite cast of ladies as they discuss their first impressions and favorite parts of the film.
· "The Dynamic Duo: Lucia and Paul" Featurette - Lucia Anillo and Paul Downs discuss their past projects and how this one came to be.
· "Playing Dead" Featurette - Learn more about Jay-the-fake-stripper and hear from the cast and crew about working with and casting him.
· "Do a Little Dance" Featurette - In this special feature, learn about the work behind the scenes that made this dance number "b'genius."

Enter to win!

Thanks for visiting EDGE!
Enter this contest
If you already have an account with EDGE, all you need to do is log in; we'll pull your address information from your account and simply ask you to verify it. If you do not yet have an account with us, register now! It's easy and free, and you'll never have to type in your personal information again. If you prefer to enter this information manually, you can use the manual entry link below.
Register
Manual Entry
Click here for contest rules.
* Please be aware that creating multiple accounts for the same person will disqualify you.