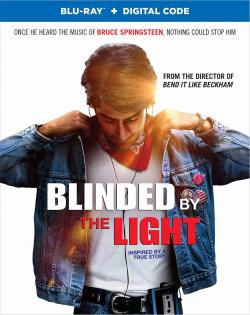 SPARKS WILL FLY WHEN

Blinded by the Light

ARRIVES ONTO BLU-RAY, DVD, AND DIGITAL FROM WARNER BROS. HOME ENTERTAINMENT

Own it Early on Digital on October 22

Blu-ray and DVD debut on November 19

From writer-director-producer Gurinder Chadha ("Bend It Like Beckham") comes the inspirational drama "Blinded by the Light," set to the music and lyrics of Bruce Springsteen's timeless songs, a joyful story of courage, love, hope, family and the unique ability of music to lift the human spirit.

The film tells the story of Javed (Viveik Kalra), a British teen of Pakistani descent growing up in the town of Luton, England, in 1987. Amidst the racial and economic turmoil of the times, he writes poetry as a means to escape the intolerance of his hometown and the inflexibility of his traditional father (Kulvinder Ghir). But when a classmate (Aaron Phagura) introduces him to the music of Bruce Springsteen, Javed sees parallels to his working-class life in the powerful lyrics. As Javed discovers a cathartic outlet for his own pent-up dreams, he also begins to find the courage to express himself in his own unique voice.

Inspired by a true story, based on Sarfraz Manzoor's acclaimed memoir "Greetings from Bury Park: Race, Religion and Rock N' Roll," "Blinded by the Light" was directed by Chadha from a screenplay written by Manzoor, Chadha and Paul Mayeda Berges ("Bend It Like Beckham"). "Blinded by the Light" stars Viveik Kalra (TV's "Next of Kin"), Kulvinder Ghir ("Bend It Like Beckham"), Meera Ganatra ("Three Dots and a Dash," "PREMature"), Nell Williams (TV's "Game of Thrones," "The Audience"), Aaron Phagura (TV's "Informer," TV's "Doctor Who"), Hayley Atwell ("Captain America: The First Avenger," "The Duchess") and Dean-Charles Chapman (TV's "Game of Thrones," "Man Up").

The story is underscored by the music and poetic lyrics of Springsteen, who gave Chadha his blessing from the film's inception.

#BlindedByTheLightMovie
https://www.facebook.com/blindedbythelightmovie/

Enter to win!

Thanks for visiting EDGE!




Enter this contest
If you already have an account with EDGE, all you need to do is log in; we'll pull your address information from your account and simply ask you to verify it. If you do not yet have an account with us, register now! It's easy and free, and you'll never have to type in your personal information again. If you prefer to enter this information manually, you can use the manual entry link below.
Register
Click here for contest rules.
* Please be aware that creating multiple accounts for the same person will disqualify you.