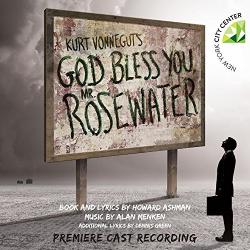 GHOSTLIGHT RECORDS

PRESENTS

KURT VONNEGUT'S
"GOD BLESS YOU, MR. ROSEWATER"

PREMIERE CAST RECORDING

THE FIRST MUSICAL COLLABORATION OF LYRICIST AND LIBRETTIST HOWARD ASHMAN AND COMPOSER ALAN MENKEN

Ghostlight Records will release the premiere cast recording of the musical Kurt Vonnegut's God Bless You, Mr. Rosewater - based on the recent production by the New York City Center's Encores! Off-Center musical theater series - in digital and physical formats on Friday, July 28. The album will be available for pre-order starting today, Friday, July 7. Adapted from Vonnegut's 1965 novel, this was the first musical written by the blockbuster team of Howard Ashman and Alan Menken, before their theater success with Little Shop of Horrors and their animated Disney hits The Little Mermaid, Beauty and the Beast and Aladdin. The production was directed by Michael Mayer and choreographed by Lorin Latarro. Chris Fenwick serves as Music Director. The CD's 28-page full-color booklet includes complete lyrics, production photography, a synopsis and essays from director Michael Mayer and Thomas Schumacher, President of Disney Theatrical Group. The album is produced by Alan Menken and Michael Kosarin, with Rick Kunis serving as executive producer. For more information on the recording, please visit sh-k-boom.com/god-bless-you-mr-rosewater.

The recent Encores! Off-Center production starred Skylar Astin, Derrick Baskin, Jeff Blumenkrantz, Nick Choksi, Eddie Cooper, Kevin Del Aguila, Santino Fontana, ClarkJohnson, James Earl Jones, Rebecca Naomi Jones, Kevin Ligon, Marla Louissaint, Liz McCartney, Bonnie Milligan, Brynn O'Malley, and Kate Wetherhead.

The 1979 musical God Bless You, Mr. Rosewater tells the story of Eliot Rosewater (Santino Fontana), a millionaire who drunkenly decides to blow his fortune on the inhabitants of an impoverished town after being inspired by the utopian vision of novelist Kilgore Trout (James Earl Jones). But there are forces who want to put the kibosh on Eliot's philanthropy-like Norman Mushari (Skylar Astin), a lawyer plotting to have Eliot declared insane. With an irresistible crazy-quilt score that volleys between pop, ragtime, Gilbert & Sullivan, and proto-Disney ballads, the Encores! Off-Center production featured never-before heard orchestrations by Danny Troob.

When the show ran for five performances at City Center from July 27-30, 2016, The New York Times praised the score for its "melodic sweetness" and "boisterous wit." AM New York said "the songs are fresh, fun and occasionally heartfelt." Talkin' Broadway raved about "the sprightly book and the dazzling score. These are incredible, almost incomparable, compositions, that fuse Ashman's ultra-witty and affectionate lyrics with Alan Menken's golden-earworm melodies." According to BroadwayWorld.com, "Ashman's irreverent intelligence and Menken's attractive mix of musical styles - dominated by Americana-style folk and blues - makes this an excellent example of a lost musical that any fan of the genre needs to get to know."

Kurt Vonnegut's God Bless You, Mr. Rosewater features book and lyrics by Howard Ashman, music by Alan Menken, and additional lyrics by Dennis Green. It was originally presented by The WPA Theatre, where it was directed by Howard Ashman.

Alan Menken is also represented on Ghostlight Records with the cast recordings of A Bronx Tale, Newsies, Sister Act, The Hunchback of Notre Dame, Leap of Faith and The Apprenticeship of Duddy Kravitz. The label served as executive producer for Aladdin.

"GOD BLESS YOU, MR. ROSEWATER" TRACK LIST

ACT I
1. Overture
2. The Rosewater Foundation
3. The Rosewater Foundation (Reprise)
4. Dear Ophelia
5. Thank God for the Volunteer Fire Brigade
6. Mushari's Waltz (Magical Moment)
7. Thirty Miles from the Banks of the Ohio / Look Who's Here
8. Cheese Nips
9. The Rosewater Foundation (Reprise II)
10. Since You Came to This Town

ACT II
11. A Poem by William Blake
12. The Rhode Island Tango
13. Eliot / Sylvia
14. Plain Clean Average Americans
15. A Firestorm Consuming Indianapolis
16. Dear Ophelia (Reprise)
17. I, Eliot Rosewater

www.sh-k-boom.com

Enter to win!

Thanks for visiting EDGE!
Enter this contest
If you already have an account with EDGE, all you need to do is log in; we'll pull your address information from your account and simply ask you to verify it. If you do not yet have an account with us, register now! It's easy and free, and you'll never have to type in your personal information again. If you prefer to enter this information manually, you can use the manual entry link below.
Register
Manual Entry
Click here for contest rules.
* Please be aware that creating multiple accounts for the same person will disqualify you.