When it comes to wellness, the old adage is true: You are your own worst enemy. According to a new survey of 2,000 Americans, the person most likely to derail your efforts to be healthy is you.
Seven in 10 Americans are trying to kick their healthy lifestyle into high gear and are currently working towards a summer fitness goal, according to new research.
A new study says Americans are becoming increasingly sedentary. They spend almost a third of their waking hours sitting down, and computer use is partly to blame.
Zac Efron's personal trainer, Patrick Murphy, breaks down the workout he used to get Zac super ripped for his iconic "Baywatch" role.
Looking for a quick midday workout? Fitness expert Jordan Yeoh offers this no-equipment-required routine.
Get a checkup first and talk with your primary care physician or cardiologist about the risks and benefits before hitting the road.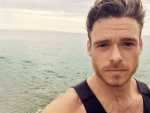 "Game of Thrones" actor and "Bodyguard" star Richard Madden is opening up about body image in a new interview with British Vogue.
At six-foot-nine-inches, muscle man Ike Catcher is quite the eye-catcher. Check out his Muscle Beach workout to see how he stays fit.
There is plenty you can do to get in shape, including these exercises for men over 50 from fitness expert Gary Walker, which you can combine throughout the week.
Gymtimidation is real. One in two Americans are intimidated at the thought of working out at a gym.