Reeling 2019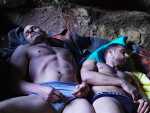 Writer-director Tor Iben tinges a sweet love story with a little classical mythology with this sweet charmer.
Don't miss your chance to cheer young love as everyone should be free to experience it.
The mesmerizing journey of an undocumented trans girl in NY is the subject of this excellent movie produced by, and starring, over 50 members of the trans community.
It's a joyous film that is like a breath of fresh air, and that deals with a same-sex marriage without resorting to heaviness or lapsing into cliched scenarios.
The veteran filmmaker Rosa von Praunheim dramatizes the true story of a German gay serial killer.
This documentary about The Lesbian Herstory Archives in New York details the archives' founding, its endurance through nearly half a century, and its successful mission to preserve lesbian history from a society determined to erase it.
This doc is the story of the once-highly-successful Israeli gay porn star who seemed hell-bent on self destruction.
"Last Ferry" is an interesting movie that will keep your attention from start to finish — if for no other reason than to see where it is going next. It doesn't offer much in terms of suspense, but as a character study there is plenty to unpack.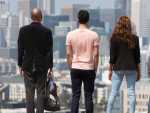 A documentary puts several human faces on something many would rather resist facing: Violence around the world, and how America, so-called "Land of Opportunity," isn't always that for those who come seeking sanctuary.
With a stand-out performance by Katie Findlay, the indie straight/gay rom-com "Straight Up" is charming even if it's narratively unsatisfying.