Top Story
Authorities were scrambling to restore electricity to Manhattan following a power outage that knocked out Times Square's towering electronic screens and darkened marquees in t...
1 thru 10 of 49312 Stories
Unbowed by searing criticism, President Donald Trump on Monday emphatically defended his tweet calling on four Democratic congresswomen of color to go back to their "broken and crime infested" countries.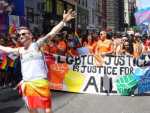 2019 has been a great year for Pride festivals and parades nationwide, many of which commemorated the 50th anniversary of the Stonewall Uprising. Check out our roundup of EDGE coverage and photo albums from this year's events so far!
Some big fundraising hauls by Democrats are easing worries that lackluster totals last quarter were a sign the party would struggle to stockpile cash for the general election fight with President Donald Trump.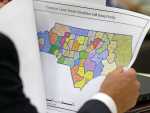 A North Carolina state court trial on whether legislative districts are illegal partisan gerrymanders starts just weeks after the U.S. Supreme Court ruled it wasn't the purview of federal courts to decide if boundaries are politically unfair.
An anti-Brexit activist who won a major legal case against the British government said Sunday she will go to court again if the next prime minister tries to force the U.K. out of the European Union without a deal.
This year is on pace to be one of the hottest on record, again, and the trend may only accelerate as President Donald Trump loosens policies meant to combat climate change. But some investors are attuned to the dangers.
Facebook may be close to putting a Federal Trade Commission investigation behind it. But it faces a variety of other probes in Europe and the U.S., some of which could present it with even bigger headaches.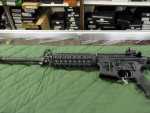 Dozens of Christchurch gun owners on Saturday handed over their weapons in exchange for money, in the first of more than 250 planned buyback events around New Zealand after the government outlawed many types of semi-automatics.
After feeling sick for several days the pastor boarded a bus traveling to eastern Congo's largest city. Only upon arrival at his destination did anyone suspect he had the highly deadly and infectious Ebola virus.
A nonprofit foundation set up by Democratic presidential candidate Joe Biden that relied on health care world partnerships to speed a cure for cancer has suspended its operations, it announced Monday.
1 thru 10 of 49312 Stories