Top Story
Making unverified claims about "unknown Middle Easterners" and prayer rugs found by ranchers, Trump drew eye rolls last year. Trump's new cries of alarm are again be...
1 thru 10 of 48045 Stories
Openly gay 2020 Democratic hopeful Pete Buttigieg continued a busy week when he stopped by "Late Night with Seth Meyers."
President Donald Trump's spokeswoman Sarah Sanders pushed back Friday against allegations that special counsel Robert Mueller's Russia report exposed a culture of lying at the White House.
Former Vice President Joe Biden is expected to announce he's running for president next week.
Police in Northern Ireland said Friday they are searching for multiple suspects in the fatal shooting of a journalist during overnight rioting in the city of Londonderry.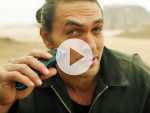 "Aquaman" is clean-shaven.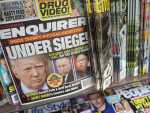 The National Enquirer is being sold to the former head of the airport newsstand company Hudson News following a rocky year in which the tabloid was accused of burying stories that could have hurt Donald Trump's 2016 presidential campaign.
The Yankees have suspended the use of Kate Smith's recording of "God Bless America" during the seventh-inning stretch while they investigate an allegation of racism against the singer.
It's now up to Congress to decide what to do with special counsel Robert Mueller's findings about President Donald Trump.
President Donald Trump sought the removal of special counsel Robert Mueller, discouraged witnesses from cooperating with prosecutors and prodded aides to mislead the public on his behalf, according to the report from Mueller.NANCY BENAC, CHAD DAY, ERIC TU
Public at last, special counsel Robert Mueller's report revealed to a waiting nation Thursday that President Donald Trump had tried to seize control of the Russia probe.
1 thru 10 of 48045 Stories