Gay Fire Island: The Latest
Pfizer said Monday its COVID-19 vaccine works for children ages 5 to 11 and that it will seek U.S. authorization for this age group soon -- a key step toward beginning vaccinations for youngsters.
OK, it definitely wasn't the Pandemmys, or the Zoomemmys, or whatever you want to call last year's virtual Emmy ceremony — with everyone at home, and visitors in hazmat suits showing up to bestow awards.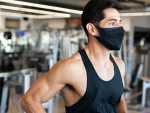 Don't worry if you are confused. Mask guidance has been mixed since the dawn of the pandemic, and new research has altered conventional thinking. We decided to dig in and sort out the latest developments.
Netflix's "The Crown" and "The Queen's Gambit" combined with Apple TV+'s "Ted Lasso" to win top series honors at the Sunday's Emmy Awards, a first for streaming services that cemented their rise to prominence in the television industry.
"RuPaul's Drag Race" is making it a marathon. And a rout. The VH1 show won the Emmy for top reality-competition show for the fourth straight year on Sunday night.
Michaela Jaé "Mj" Rodriguez in vintage Versace Atelier and Billy Porter wearing large wings were just the beginning of the Emmy Awards red carpet.
Jean Smart has an Emmy to mark a remarkable career renaissance. Smart won best actress in a comedy series Sunday night for her role in HBO Max's "Hacks."
The sidekick and best friend of Easttown have each won an Emmy. Evan Peters won best supporting actor in a limited series or TV movie for HBO's "Mare of Easttown" on Sunday night, and Julianne Nicholson won best supporting actress for the show.
Billy Porter, host Cedric the Entertainer and Nicole Byer were among the first to arrive at the 73rd annual Emmy Awards.
Chris Rock on Sunday said he has been diagnosed with COVID-19 and sent a message to anyone still on the fence: "Get vaccinated."
Some 7,000 people gathered in Ukrainian capital on Sunday for the annual March for Equality to support the rights of the country's LGBTQ+ community.
One of the most admired mainstream dramas of all time takes a step up from the cable-channel presentation you're probably used to with its all-new 4K Ultra HD Blu-ray release.
Aetna is being sued by a lesbian couple who allege discrimination because the company requires higher out-of-pocket expenditures before covering fertility treatment for non-heterosexuals.
An Australian entomologist has given the name Opaluma rupaul to a newly discovered species of soldier fly, a metallic-looking, rainbow insect he says earned the name for "serving fierce looks."
When the nonessentials threaten to put your finances in jeopardy, it's important to keep your financial goals on track. Here are five strategies to help you navigate impulse spending.

Which one of these hot hatches is the better buy? Edmunds' experts put the two speedy compacts head-to-head to determine a winner.
The material that can withstand intensive heat for short periods resembles tin foil from the kitchen drawer but is modeled after the tent-like shelters that wildland firefighters use as a last resort to protect themselves when trapped by flames.
September 18 marks HIV/AIDS and Aging Awareness Day. Recent data suggests that despite great progress in curbing the transmission of HIV, our older population is still at risk, both for infection and death.
A beach popular with gay men in Italy has been named the world's second-best spot for skinny-dipping.
This year's celebration of Carnaval des Couleurs will be a multicultural celebration filled with fun and activities.