Watch: YouTube Star Trisha Paytas Says She's '1000%' Trans, Faces Backlash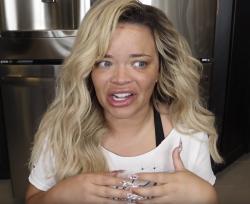 In a new 15-minute video, YouTube and social media star Trisha Paytas says she's transgender.

In the clip called "I AM TRANSGENDER (FEMALE TO MALE)," Paytas says she now identifies as trans because she feels more masculine than she does feminine. She goes on to say that she feels like a "gay man" who likes to be in drag.

"I identify with men better. People always think there's something wrong with me because I don't have that many girlfriends but I do love girls—I love their sensitivity and all the stuff like that," Paytas, 31, says in her video. "That's why I identify more as a gay man because I like guys but I also identify as a guy.

In my head I feel like I'm a female transgender to male but also like a drag queen," she later adds. "I don't like to be center of attention, except for when I want to be the center of attention. Think of like a drag queen: they do their full glam and everything but in their day to day they're not, they're very low-key, whatever."

Paytas also says she has "penis envy" and that she thought her "life would be so much easier if I had that part. If I assert myself I wouldn't be a bitch, I'd be a man."

As the video ends, she says: "So do I think I'm transgender? Yes, 1,000%. Do I identify with my natural-born gender? A thousand percent. So I think that's where I'm at and I feel really free and liberated."

Unsurprisingly, the YouTuber is facing a backlash on social media, namely Twitter. Drag queen Vicy Vox took issue with the video, saying that Paytas used "gender identity as click bait" and in doing so is "an act of violence."

Paytas responded: "You don't know me, my journey , my struggle, my transition. I've been with a gender identity therapy specialist for the past 6 months cause I hated who I was since I was 3. Think before you tweet , THIS is more harmful than me sharing my story."





In another tweet towards Vox, she called the performer "disgusting trash."

"So harmful. Because I don't look like a traditional male , I'm a joke?"





One user tweeted to Paytas: "If you wanna make a video seriously talking about how you feel you gotta stop with the outrageous click bait titles and thumbnails." The YouTuber responded by writing: "Other trans can use the title but I can't? It's what the video is about in its entirety, no clickbait."





She's not responded to any other criticisms. Find other reactions to Paytas's video below and watch the clip, also below.




Comments on Facebook