Watch: 'The Good Place' Star Manny Jacinto Reads Your Thirsty Tweets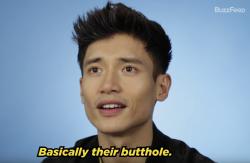 Manny Jacinto, who plays the lovable dopey hunk Jason Mendoza on the NBC comedy "The Good Place," is the latest celeb to stop by BuzzFeed and read some of the filthiest and thirstiest tweets about him.

The first tweet the actor reads says, "...if you're reading this you are cordially invited to crush my head between your arms here at my house in Verdun, Quebec."

Jacinto then romantically responds in French.

Another tweet he reads says that "If I found out he can sing, too, I'm throwing this whole bussy at him."

"What's a bussy," he asks of the slang term. Someone off-camera informs Jacinto: "Basically their butthole."

"Got it. Maybe in the shower...so, we can make it happen somehow," he says.

"I want Manny Jacinto to split me open sternum to bellybutton using his jaw," one tweet reads.

His reaction: "That's — thank you."

Watch more of Jacinto's reactions to the dirtiest tweets on the Internet below.
Comments on Facebook