Watch: Sam Smith Says They're 'Super Single,' Reveals Celeb Crush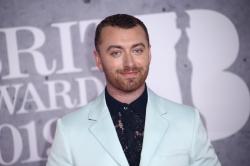 In a new interview, pop singer Sam Smith opened up about their dating life...and the celebs they have a crush on.

Speaking with SiriusXM Hits 1, Smith said they're "super single," which prompted the host to ask if the "Latch" singer has a "celeb crush."

"You know who came up on my phone last night?" Smith said. "Shia LeBoeuf. He's so fit! He's so fit he turns me on."

The host then suggested the the "Honey Boy" star may have heard the British singer's remarks.

"Well, I don't think he's gay," Smith said. "But I'd be happy to be his first."

They also went on to shoot down rumors that they'll be doing a new theme song for the upcoming James Bond movie but suggested Dua Lipa get the opportunity.

"Do you remember the Madonna Bond song? It would be amazing to see a female queer icon like that, just smash out a dance-y type of song," Smith said. They were then asked why they'd give the opportunity to someone else.

"Because I've got it," Smith, who won an Oscar for their 2015 Bond song "Writing's on the Wall." "Been there, done that, got the Oscar. OK. I'm joking."

In October, Smith revealed they're working on their third album. They also released a cover of Donna Summer's disco jam "I Feel Love" and had a duet with Renee Zellweger of "Get Happy" for the Judy Garland biopic "Judy." In September, the singer came out as gender non-binary and announced "they/them" pronouns.

Watch parts of Smith's new interview below.



Comments on Facebook