Watch: Trans 'Drag Race' Star Gia Gunn Weighs in on YouTuber Trisha Paytas's Coming Out Vid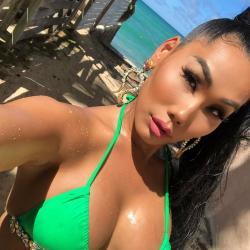 "RuPaul's Drag Race" star Gia Gunn is calling out YouTuber Trisha Paytas for a viral video posted this week in which Paytas comes out as transgender.

Speaking with TMZ, Gunn, who is trans, said she doesn't believe the YouTube star being honest about her gender identity, saying Paytas posted the video for clickbait and to gain followers.

"People who are truly transgender don't make videos and say the things that she said," Gunn said. "It's very clear what the video was...do I think she has some of these feelings? Absolutely. Do I think maybe she resonates with men more than women? Sure. Do I think she has 'penis envy?' Sure. Do I think she's been with you know...whatever people? Sure. Do I think she's transgender? Absolutely not."

Gunn said she's spent 25 years to accept being trans, adding that "that's not something a privileged white cis woman should be taking advantage of."

The performer then called out Paytas's apology video, saying the social media star isn't apologizing because "she feels the opposite way."

"You're apologizing because you realized you might be canceled and I hate to talk to that because I think cancel culture is extremely horrible," Gunn told TMZ. "But we live in that time you can say the wrong thing or insult the wrong person and all of a sudden your views go down and your followers go down and you're nobody and that's just the reality of things."

After sharing the first video, Paytas was hit by backlash from people online, leading Paytas to post an apology video, saying sorry but sticking by the comments in the first video.

Watch both videos below, along with Gunn's remarks to TMZ.



Comments on Facebook