Label Me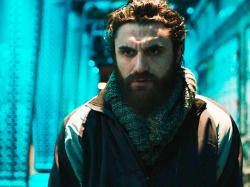 "Label Me," the debut feature film from German writer/director Kiar Kreuser is a compelling study of a power struggle between two solitary men who need each other for very different reasons. It starts on a train platform where, using hookup apps on their phones, Lars (Nikolaus Benda) a wealthy German picks up Waseem (Renato Schuch), a Syrian refugee.

Once back at Lars' chic loft, Waseem lays down the rules, as this is strictly business. There is to be no kissing, no affectionate touching, and he will do the penetrating. It's a transaction that Lars is happy to pay for, and when the two men hook up again later, he uses more money to pay for the right to ask the rather solemn straight Syrian a few personal questions.

They lead totally different lives, and although Kreuser is purposely economic with all the details, the contrast between the crowded refugee shelter that is currently home for Haseem and Lars's apartment is jarring, and something that neither men seems eager to discuss. Waseem's internal struggles with coming to terms with the reality that he is now he is providing sexual services for Lars regularly is played against the toxic masculinity of the other men in the shelter.

There is a shift in power as Lars gradually tries to assert his needs over a reluctant Waseem, who becomes confused about his own feelings. When, in the middle of making out one day, Lars has to rush off to a meeting he forgot about, he leaves Waseem alone in the apartment. We see him packing a bag full of Lars' computers and things... strangely enough adding his jockstrap, too... but in the end, he doesn't take them, and he sits waiting for Lars to return. He jokes, "You're lucky. It takes me more effort to sell it than fucking you." But It's actually the very first sign that the iceman is thawing.

There is never going to be a 360-degree turn that allows their story to finish with a happy ending, but after the two men fall out badly they both are shocked at their reactions to the fact that their relationship may have ended. So Kreuser leaves them (and us) with a glimmer of hope.

This brief two-hander is completely compelling from the very first scene to the final credits. The finely nuanced performances from the talented pair of actors are crowned with their electrifying chemistry, which positively sizzles on the screen. Its simple plot has a much deeper dimension than it initially seemed, and one that will stick in your memory a long time.
Roger Walker-Dack, a passionate cinephile, is a freelance writer, critic and broadcaster and the author/editor of three blogs. He divides his time between Miami Beach and Provincetown.
Comments on Facebook