The Lost City of Cecil B. DeMille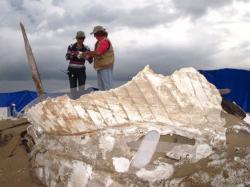 This is a great year for Cecil B. DeMille's enduring classic "The Ten Commandments." What better time than now to revisit the fascinating 2016 documentary "The Lost City of Cecil B. DeMille," which examines a little-known aspect of the great filmmaker's ambitious work?

Actually DeMille made two versions of "The Ten Commandments," both of them visionary epics that challenged the cinematic art form of the time. "The Lost City of Cecil B. DeMille" talks about both films in depth — as well as addressing DeMille's life and career overall — and parallels DeMille's career and accomplishments with the challenges that filmmaker Peter Brosnan faced when attempting to dig up the remains of the huge set used for the 1923 original silent feature.

"The Lost City of Cecil B. DeMille" is making a return to home release formats DVD and Digital, in the immediate wake of a brand-new digibook release that bundles the 1956 Charlton Heston-starring film together with DeMille's earlier 1923 silent film. The movie is also headed back to television, with a showing slated on ABC for April 4 — a sensible alternative for those who remain skeptical that "packing the pews" would be a good idea in the midst of COVID-19 pandemic.

For all the glitz and glory of DeMille's masterpiece, however, there's a fascinating story behind the 1923 original, a film that saw DeMille clash with studio executives over issues of cost. And a costly film it was, involving the construction of a vast set in the sand dunes Santa Barbara Country in California, an easily accessible stand-in for Egypt.

That ginormous set consisted in large part of huge plaster sculptures that DeMille — in a cost-saving measure — simply buried, rather than trucking them away. (Leaving them standing would have invited rival studios to swoop in and shoot their own quickie version, undercutting DeMille's grandiose vision.) In 1983, film student Peter Brosnan learned about the great "lost city" and decided to go dig it up — and make a documentary film while he was at it.

That documentary turned into a three-decade quest in which Brosnan and others fought against intractable bureaucracies, industry apathy, and even shocking institutional ignorance and disinterest from film studio executives. Brosnan's quest eventually boiled down to the pursuit of a single photo op-ready artifact (could they manage to locate and excavate the face of one of the great sphinx statues that were an iconic part of the set?) which, in itself, is a revealing tidbit that tells the viewer volumes about media and culture in the United States.

But the story of Brosnan's tenacity — a match for that of DeMille himself, who went to great lengths to preserve his artistic vision — is the true source of energy and inspiration here. The film's re-release coincides with a final push from the Guadalupe-Nipomo Dunes Center to excavate the site and uncover the remaining secrets of the 1923 production.

Part cinema history deep-cut, part archaeology thriller, and part absurdist comedy, "The Lost City of Cecil B. DeMille" gives film lovers a fresh look at a long-buried slice of Hollywood lore.
Kilian Melloy serves as EDGE Media Network's Assistant Arts Editor. He also reviews theater for WBUR. His professional memberships include the National Lesbian & Gay Journalists Association, the Boston Online Film Critics Association, The Gay and Lesbian Entertainment Critics Association, and the Boston Theater Critics Association's Elliot Norton Awards Committee.
Comments on Facebook