Boston Symphony Orchestra | Berlioz/Ravel/Estévez | April 11, 2019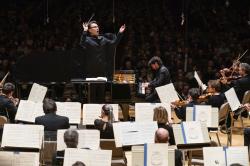 "Stuff happens" is the polite way to describe what transpired at the Boston Symphony Orchestra this week when guest conductor Gustavo Dudamel dropped out of his second weekend of concerts with the orchestra due to injury.

Mr. Dudamel fans were out in legion last Saturday (in a repeat of Friday's program) when he conducted a fairly traditional program — Schumann's "Spring" Symphony and Stravinsky's "Rite of Spring" — to much enthusiasm. Known for his exuberant manner on the podium, he seemed notably subdued; still, he had an undeniable connection with the orchestra, shaping the music and coaxing the players with an exacting manner that was a joy to watch. The result was impressive performances of two divergent works: one expressing the full flourish of Romanticism, the other the hard-edged reaction to it.

Anticipation, then, was high for this week's concert of more adventurous fare that Mr. Dudamel programmed, that included three works by Latin American composers; but his injury nixed it and the BSO had to do some fast rethinking for the concerts (repeated tonight in a Casual Friday concert and tomorrow night in a regular subscription series concert). What they came up with is a reworked program and two conductors from the orchestra's bullpen: Ken-David Masur, who is the orchestra's associate conductor, and James Burton, the Symphony's Choral Director and conductor of the Tanglewood Festival Chorus, who led Antonio Estévez's "Cantata Criolla," which took up the program's second half.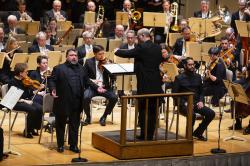 The wiry, bespectacled Mr. Masur opened with Hector Berlioz's "Roman Carnival Overture," a lively curtain raiser that made it apparent that the orchestra was in good hands. What was to follow was supposed to be Alberto Ginastera's Piano Concerto No. 1 which was to mark Sergio Tiempo's BSO debut, but it was replaced with Maurice Ravel's Piano Concerto in G with Mr. Mazur conducting. It was refreshing to see these two Millennials make such beautiful music together.

The Ravel, with its echoes of Gershwin and Stravinsky, has a Jazz Age sheen that was expressively played by the diminutive, shaggy-haired Tiempo. He played the second movement with a hushed quietude that captured the lyrical delicacy of the writing, most notably during the solo statement of its main theme at its opening. Bookending this was the more exuberant music of two outer movements, especially the tricky, fleetingly fast finale that Tiempo played with breathtaking speed. Ginastera was also included in the program with his "Danza del gaucho matrero" ("Dance of the Outlaw Cowboy") from '3 Argentinian Dances,' Op. 2 that Tiempo played with virtuoso skill as a most welcome encore after numerous ovations.

The piece retained from the original program is Estévez's "Cantata Criolla," a relatively brief choral work for large-scale forces that has long been considered Venezuela's "great national work." It is a setting of 20th-century poet Alberto Arvelo Torrealba's "Florentino y Diablo," which is something of a take on the "Faust" legend: a folk singing cowboy rides in the Venezuelan prairies where he encounters the Devil, who taunts him not with bullets, but words. Their battle is a lively, lyrical exchange, boisterously sung by tenor Aquiles Machado and baritone Gustavo Castillo, abetted by the frequent commentary by the chorus. Its unique sound came with its flavorful use of folk melodies and instrumentation; its only drawback was the poem's literal translation (shown on surtitles) that required a second translation to fully understand. A more colloquial translation would have been welcome.

No doubt many were disappointed with Mr. Dudamel's cancellation. An acquaintance who had been waiting all season for the concert was practically apoplectic and had planned to stay away. It turned out to be her loss - the makeshift concert more than rose to the orchestra's usual high standards, and that it was pulled together at short notice is a credit to the orchestra's flexibility and professionalism. It is worth seeing if only to hear the phenomenal Mr. Tiempo.

For information about this concert and the Boston Symphony Orchestra, visit the orchestra's website.
Comments on Facebook