How Can an Orchestra Perform on Lockdown? French Orchestra Provides a Stirring Answer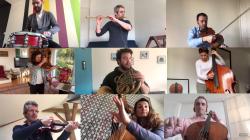 One of the many distressing aspects of the current health crisis is the closing of performance arts venues — from Broadway to arena tours to opera companies and orchestras. In the past few weeks, many major orchestras are offering streaming of concerts — both on video and audio — on their sites. (For a comprehensive link, follow this link).
But the National Orchestra of France has pulled off a wonderful technological feat this week with a video made for classical musical lovers throughout the world with an abridged version of Ravel's "Bolero" for 51-instruments.
"Like building a musical jigsaw puzzle, the National Orchestra of France used the magic of technology to weave together the sight and sounds of its musicians, who filmed themselves playing alone in their homes into a seamless, rousing whole," reports the Daily Mail.
A screenshot from the National Orchestra of France's video of "Bolero," currently streaming on YouTube.
The video became an opportunity for orchestra members to keep in touch with each other and the audiences they haven't been able to perform for.
"It provides a feeling of union' in a time of confinement, violinist David Riviere told the Daily Mail. He recorded his part while listening to the piece through headphones.
"'It is awful to not be working,' said Michel Orier to the Daily Mail, Radio France music director. 'But with this video, we wanted to say to the public: "We are still there for you.'"
The video begins with each performer introducing themselves. As the piece continues, screens open up to reveal more and more players.
"I would never have imagined synchronising the sound of instruments not playing together," said Dimitri Scapolan, a Radio France editor in charge of the project.
"When I overlapped all the pieces recorded by the cellphones on my computer, to my great astonishment, everyone was in perfect harmony."
"Bolero" is scored for some 80-musicians and runs 15 minutes. This abridged version runs under 5 minutes and features 51 musicians.
Since being posted on March 29, it has received more than 1,300,000 views.
Watch the video below:

This story is part of our special report titled "COVID-19 And You." Want to read more? Here's the full list.
Comments on Facebook