Cabaret: Sullivan & Harnar Sing Strouse & Harnick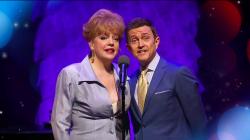 Cabaret veterans KT Sullivan and Jeff Harnar, on-again/off-again stage partners for years, who recently topped themselves with a couple of super-smart Stephen Sondheim salutes, are back mining Broadway's past for another mega-montage. This time, the twosome double dips, scooping out gems with music by Charles Strouse (and various collaborators) and others with lyrics by Sheldon Harnick (most with music by Jerry Bock).

While Strouse and Harnick never collaborated, their shows graced the Great White Way in the same decades and both, happily, are still with us — Harnick is now 95 and Strouse is a mere kid at just 91. Harnick was "with us" in the other sense, meaning in the audience, as the show debuted and dazzled on July 23 at Manhattan's Laurie Beechman Theatre on West 42 Street.

Again working with resourceful director Sondra Lee and prodigiously gifted pianist/music director Jon Weber, these polished, prolific pros give us what has become expected of them: the unexpected. Although they occasionally do a number reminiscent of the way it was famously and first heard on stage, those moments kind of serve as a respite while we catch our breath during a night full of merry mash-ups, tricky twists, and tempo turnabouts, and recipes for reinvention. With no spoken comments after the introduction, it's a pow-pow-pow pizzazz-packed parade, and the apparent goal is to present an entertaining comparative study of the men's work, side by side, as similar subject matter. For example --and for starters---"Little Old New York" from Bock & Harnick's "Tenderloin" jostled against, bounced around, and crossed paths with "NYC" from "Annie." That musical's songs felt bittersweet with Strouse's lyricist for that show, Martin Charnin, having passed away earlier this month.

The mix of solos and duets occasionally added Weber's vocals. Gender-bending assignments added to the sense of rediscovery. Jeff Harnar, having in recent years discarded previous conventions, now sings comfortably as an out gay man, seemingly relishing formerly female-exclusive territory. Winsome, wide-eyed with wonder with "One Boy" ("Bye Bye Birdie"), he's determined to marry "The Very Next Man" ("Fiorello!" again). Elsewhere, he unleashes his uninhibited side, strolling through the audience — singing to, flirting with, making physical contact with men, reclining atop the piano with a big feather boa. KT Sullivan's gleeful goofy, spoofy "If I Were a Rich Man" mocks masculine images, instead of just wishing for economic parity in her parody. Her laser beam focus was in full evidence in ultra-fleet, complicated moments, scoring points in counterpoints. Still, there's nothing like luxuriating in soprano glow on rich gorgeous melodies like the rarely done "Away from You" from "Rex" (Harnick/ Richard Rodgers).

This song-packed, pleasure-chest packed, pleased audience was vociferous with what's, appropriately, also the name of the included title song of a Charles Strouse/Lee Adams score: "Applause." It was well deserved.

"Sullivan & Harnar Sing Strouse & Harnick" featuring KT Sullivan & Jeff Harnar returns to the Laurie Beechman Theatre on September 10. Jeff Harnar performs his solo act of songs at the venue on Saturday, July 27. KT Sullivan teams with Steve Ross for "Love, Noël: The Letters and Songs of Noël Coward" at the Irish Rep, July 27 — August 25. For more information, visit KT Sullivan's website or Jeff Harnar's website.
ROB LESTER returns to Edge in 2019 after several years of being otherwise occupied writing and directing musical theatre shows, working as a dramaturg, arts consultant, and contributing articles and reviews to various outlets. His long-running "Sound Advice" column covering cast albums and vocal CDs has been running regularly at
www.TalkinBroadway.com
for almost 15 years.
Comments on Facebook