Catch the latest reports on your favorite (or not-so-favorite) celebrities at PopUps.
It won't be long now before we get new music from out rapper Lil Nas X. But in the meantime, he's keeping his fans happy by sharing shirtless selfies to social media.
Kelly Ripa is teasing her husband Mark Consuelos in a new Instagram post that happens to show the hunky actor shirtless...and in bed.
Ariana Grande surprised fans Wednesday when she took to Twitter to announce her new album will be out this month.
Madonna is voting early and wants her fans to know!
"Big Brother" star Paulie Calafiore might trying out to be part of the next Winter Olympics, according to a report from TMZ.
Madonna has teamed up with a number of producers over the years but one person she refuses to work with is hit maker David Guetta and the reason is quite odd.
Lenny Kravitz, 56, is the cover of the latest issue of Men's Health magazine where he shows off his ripped body and opens up about being a vegan as well as his friendship with ex-wife Lisa Bonet and her husband Jason Momoa.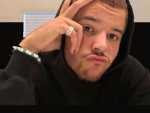 Last week, pop singer Halsey took to social media to have a word with her fans who are thirsting after her younger brother.
Rapper Macklemore, perhaps best known for his LGBTQ love song "Same Love," is looking quite different these days, and Twitter is taking notice when he showed off his new look on social media this week.
After her VMAs spectacular, Lady Gaga might be readying a new single off her latest album "Chromatica."