Started as the Seattle Lesbian & Gay Film Festival in October 1996, the Seattle Queer Film Festival has grown into the largest event of its kind in the Pacific Northwest, gaining industry and audience recognition for showcasing the latest and greatest in queer film, from major motion picture premieres to emerging talent. An important venue in the Seattle film scene, the festival provides unique opportunities for visiting and local filmmakers to engage and entertain the Greater Seattle region's LGBTQ and allied community.

For more information, visit https://threedollarbillcinema.org/seaqueerfilmfest
Tone poem, documentary, feature film, family epic... "Socks on Fire" is a little of all these things, plus an invitation to observe family and familial legend all at once.
"Kapana" is a kind of grilled meat sold by food stand vendors in Namibia. But director Philippe Talavera isn't just telling a story of "street meat" - he's exploring GLBTQ outlaw status, personal honesty, and commitment.
A wonderfully engaging documentary about the pioneer drag queens of Santa Clara, Cuba.
Hung-i Chen and Muni Wei and an all-female cast reimagine Shakespeare's "As You Like It" into a high-energy romp set a few decades from now.
In "My Fiona," suicide brings more questions than answers.
A British queer film full of teen angst.
Cloris Leachman's exquisite swan song is poignant and affecting.
A sort of "Walking and Talking" - or, if you like, "Before Sunrise" - with a transgender twist, Mari Walker's "See You Then" follows Kris (Pooya Mohseni) and Naomi (Lynn Chen) as they attempt to reconnect.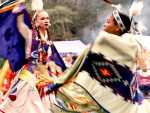 Stephanie Lamorre's heart-touching documentary on Two-Spirit teenager Sherente Misihitasin is a welcome contribution to the burgeoning dialogue about the transgender community.
Filmmakers Harri Shanahan, Sian A. Williams, and Siobhan Fahey revisit London in the 1980's with this fascinating documentary.