Started as the Seattle Lesbian & Gay Film Festival in October 1996, the Seattle Queer Film Festival has grown into the largest event of its kind in the Pacific Northwest, gaining industry and audience recognition for showcasing the latest and greatest in queer film, from major motion picture premieres to emerging talent. An important venue in the Seattle film scene, the festival provides unique opportunities for visiting and local filmmakers to engage and entertain the Greater Seattle region's LGBTQ and allied community.

For more information, visit https://threedollarbillcinema.org/seaqueerfilmfest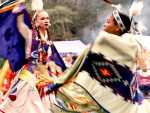 Stephanie Lamorre's heart-touching documentary on Two-Spirit teenager Sherente Misihitasin is a welcome contribution to the burgeoning dialogue about the transgender community.
Filmmakers Harri Shanahan, Sian A. Williams, and Siobhan Fahey revisit London in the 1980's with this fascinating documentary.
The story of a true gay hero we should all know about.
"Undertow" director Javier Fuentes-León is back with a brilliant comedy of errors.
The rags-to-riches (and almost rags again) story of the very first winner of RuPaul's Drag Race
The harrowing tale of two queer Black men murdered by a wealthy white political donor.
This tasty confection has both substance and sweetness, making for a poignant, charming comedy that's sure to become a new gay classic.
The story of a struggling boy burlesque/stripper group that will really stretch your patience
The title essay of George M. Johnson's 2020 collection of memoirs and essays, "Boys Aren't Blue," gets a dramatic reading in this short film.
Vivian Kleiman's marvelous documentary "No Straight Lines" surveys the history - so far - of queer comics, from strips drawn for local gay newspapers to the rise of graphic novels to the advent of web comics.