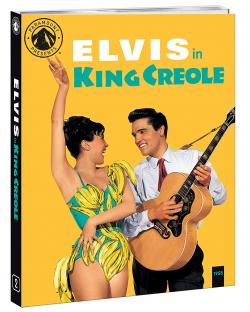 Paramount Pictures announced today that it will introduce a new "Paramount Presents" label to recognize and celebrate films from the studio's vast and storied library. The "Paramount Presents" banner will be used for a new line of collectible Blu-ray Discs™ incorporating a curated selection of enduringly popular movies, as well as films that had a cultural impact upon their release. The label will also be used to bring classic films to select theaters for limited theatrical runs so audiences can experience them again on the big screen.

"Paramount's library represents over a century of filmmaking and includes some of the greatest films in cinematic history," said Bob Buchi, president, worldwide home media distribution, Paramount Pictures. "We look forward to opening the vault and sharing some of our most treasured films with fans under the new 'Paramount Presents' banner, both in theaters and in our new Blu-ray collection, which has been crafted to offer something special to casual fans, dedicated film enthusiasts, and collectors." Designed for fans and film lovers, the new line of "Paramount Presents" Blu-ray Discs will include a diverse and eclectic array of films spanning all genres. The new collection will return each title to the spotlight with meticulously remastered releases that include brand new bonus content focused on the filmmakers. Presented in collectible packaging that includes a foldout image of the original movie poster and interior artwork featuring key movie moments, each Blu-ray in the Paramount Presents line features new interviews with filmmakers and/or celebrated film historian Leonard Maltin.

"Movies have the power to hold a mirror up to the world. Sometimes they make us think about big issues and sometimes they simply reflect the times in which they were made," said Maltin. "The 'Paramount Presents' banner encompasses a wide array of films that are worth revisiting because they captured something unique that resonated with audiences. Whether you're watching them for the first time or the hundredth, you will see why these films have stood the test of time." The first three films in the "Paramount Presents" Blu-ray line will be the unforgettable phenomenon Fatal Attraction, which has been remastered under the supervision of director Adrian Lyne; 1958's acclaimed Elvis Presley drama King Creole; and director Alfred Hitchcock's intoxicating romantic thriller To Catch A Thief, which celebrates its 65th anniversary this year. All three titles will be available beginning April 21, 2020. Fatal Attraction will also have a limited theatrical release in 2020 (details to be announced at a later date). Additional titles scheduled to be released as part of the "Paramount Presents" Blu-ray line include newly remastered editions of Flashdance, Airplane!, and Ghost, as well as several titles arriving on Blu-ray for the first time ever, including Pretty In Pink and The Golden Child.

KING CREOLE

Elvis Presley brings a new beat to Bourbon Street in KING CREOLE; presented here newly remastered from a 4K film transfer. Directed by Michael Curtiz (Casablanca, White Christmas), Elvis plays a troubled youth whose singing sets the French Quarter rockin'. With a sweet girl to love him and nightclubbers cheering, it looks like he'll shake off his past and head for the top. But a mobster (Walter Matthau) and his man-trap moll (Carolyn Jones) could snare him into a life of crime.
Enter this contest
If you already have an account with EDGE, all you need to do is log in; we'll pull your address information from your account and simply ask you to verify it. If you do not yet have an account with us, register now! It's easy and free, and you'll never have to type in your personal information again. If you prefer to enter this information manually, you can use the manual entry link below.
Register
Click here for contest rules.
* Please be aware that creating multiple accounts for the same person will disqualify you.