Watch: Madonna Releases Sexy Music Vid for 'Medellin,' Licks Maluma's Toes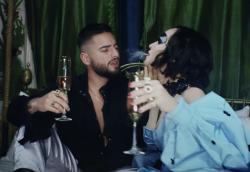 What else would you expect from Madonna at this point?

The Queen of Pop shared the music video for her new single "Medellin," featuring Colombian singer Maluma.

Directed by Diana Kunst and May Morogo, the video is outrageous and sexy as a fan of the singer may expect. Things get so heated that at one point Madonna is seen licking Maluma's toes.

"Medellin" is the first single off Madonna's 14th album "Madame X," which will be out on June 14. The album will also feature another Maluma collaboration ("Bitch I'm Loca") as well as collabs with rappers Quavo ("Future") and Swae Lee ("Crave"). Brazilian singer Anitta will also appear on the song "Faz Gostoso."

Watch the video for "Medellin" below.
Comments on Facebook