Watch: Police Investigate Assault on 3 Men Outside Boston's Iconic Gay Bar Jacque's Cabaret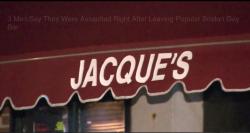 Boston police are investigating an alleged assault which took place early Saturday morning outside Jacque's Cabaret, Boston's oldest gay bar.

Three gay men allege that they were verbally and physically assaulted by a group of people after leaving the Jacque's around 12:15 a.m., according to CBSN Boston.

The men made a statement about the incident, saying, "The group was shouting homophobic slurs while they punched and kicked one of the victims on the ground before putting him into a chokehold."

The Boston Police Department confirmed to CBSN Boston that they were called to the scene, but the alleged perpetrators fled before police arrived. The BPD is also investigating the incident as a possible hate crime. The victims allegedly do not wish to be identified, but plan to file charges for hate crime.

"What we were always scared of happening to us as finally happened," said the victims.

Watch the CBSN Boston coverage of the incident in the video below.
Comments on Facebook