Stay Safe & Wank, Says NYC's Dept. of Health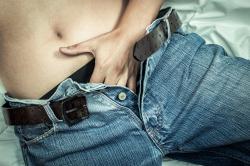 Masturbation can be fun, as they sing in "Hair," and it also the safest sex during the coronavirus epidemic.
New York City's Department of Health issued "guidance Saturday on ways to stay COVID-19-free when the birds and bees beckon amid the coronavirus pandemic," reports the New York Post.
"You are your safest sex partner," the document reads. "Masturbation will not spread COVID-19, especially if you wash your hands (and any sex toys) with soap and water for at least 20 seconds before and after."
But if you have sex, have it with someone you know: "The next safest partner is someone you live with," officials offered. "Having close contact — including sex — with a small circle of people helps prevent spreading COVID-19."
As for hook-ups with strangers?
"Horndogs who 'usually' meet partners online should take a break — and make like it's 2003," writes the Post.
"Video dates, sexting or chat rooms may be options for you," the agency said.
Amongst its guidelines are:
Take care during sex.
• Kissing can easily pass COVID-19. Avoid kissing anyone who is not part of your small circle of close contacts.
• Rimming (mouth on anus) might spread COVID-19. Virus in feces may enter your mouth.
• Condoms and dental dams can reduce contact with saliva or feces, especially during oral or anal sex.
• Washing up before and after sex is more important than ever.
• Wash hands often with soap and water for at least 20 seconds.
Of course, the report went viral:
Comments on Facebook