1 thru 10 of 7546 Stories
Joe Biden met with community leaders at a predominantly African American church in Delaware Monday morning, leaving home for a second consecutive day to address exploding racial tensions that have begun to reshape the upcoming presidential election.
Joe Biden's search for a running mate could be reshaped by the police killing of George Floyd and the unrest it has ignited across the country, raising questions about contenders with law-and-order backgrounds.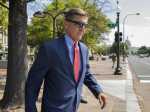 Transcripts of phone calls that played a pivotal role in the Russia investigation were declassified and released Friday.
President Donald Trump spent Friday walking back his post-midnight "thugs" tweet about Minneapolis protesters that added to outrage over the police killing of a black man.
A senior Trump administration official misused his office for private gain by capitalizing on his government connections to help get his son-in-law hired at the Environmental Protection Agency, investigators said in a report obtained by AP.
It's the kind of frenetic, fractured moment when national leaders are looked to for solutions and solace. President Donald Trump instead threw a rhetorical match into the tinderbox.
After one of his colleague's withheld his positive COVID-19 status for week, out Pennsylvania pol Brian Sims lashed back.
North Carolina's governor said his administration hasn't received the written safety plan for the upcoming Republican National Convention requested by his health secretary in response to President Trump's demands for a full-scale event.
A Michigan court on Thursday ordered a barber to close his shop and stop defying the state's coronavirus restrictions, though he vowed to keep cutting hair.
Kathy Griffin has charged back into controversy with a wisecrack about a "Syringe with nothing but air inside it" — seemingly, her prescription for the current president.
1 thru 10 of 7546 Stories