Watch: Randy Rainbow Summarizes Trump Attempts to Divert Attention from COVID-19 with 'Distraction!'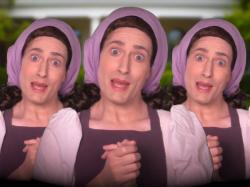 As President Donald Trump invites Americans to look away from the COVID-19 body count, the crushing economic fallout of the pandemic and the recession it triggered, and his own delayed, sputtering response, Randy Rainbow offers his latest biting musical video parody that presents a multitude of single-word takedowns of the White House's latest attempt to Blame Obama (tm).
"So how does an unprepared reality TV host pretending to be president deal with such an unprecedented crisis?" Rainbow muses, about a minute and a half into the video, after an opening that consists of one of Rainbow's signature fake Trump interviews.
Answer: With very-much-precedented attempts to deflect blame, divert attention, and rouse anger against ever-popular targets like former president Barack Obama.
To the tune of the song "Tradition" (music by Jerry Bock and words by Sheldon Harnick), from the 1964 musical stage play "Fiddler on the Roof," Rainbow offers up a kaleidoscope of words that might resemble a typical Trump vocabulary salad, except that they all have a direct bearing on the president's efforts to shift blame and anger anywhere but on himself.
"This was all Obama," Trump declares, before Rainbow launches his fusillade:
"Distraction - distraction!"
"This was all Biden," Trump adds.
"Distraction," Rainbow reiterates.
"And we caught them," Trump goes on to say.
As credible news sources have reported, Trump's claims of impropriety in Obama's second term - which Trump has dubbed "Obamagate" - consists, in reality, of nothing more than typical, and completely legal, activity. As political news outlet The Hill has described it, so-called "Obamagate" is j"an absurd conspiracy theory" - just one more in a succession of such absurdities.
The Hill summarized Trump's latest scabrous fiction as follows:
The reality is that Obamagate is meant to obfuscate. It is designed to take voters' minds off Trump's coronavirus mess by making up something outlandish and scandalous about the former president and his vice president. That former vice president also happens to be the presumptive Democratic nominee who is now beating Trump in national polls.
But in keeping with the parodic song's style and themes, Rainbow had the mot juste for Trump's latest baseless claims about his (considerably more) presidential predecessor:
"Lie-Lie-Lie-Lie. (Fib.)"
Rainbow goes on to sings about "So many people scared to lose their lives" and "Thousands of people dying on your watch," and poses the question of what the current occupant of the Oval Office is mostly concerned with as the pandemic's tragedies continue to unfold.
"Obama," Trump utters.
But Rainbow has only begun to serve up the words that describe the true concerns - and the modus operandi of the POTUS.
"Election!" "Deception!" "Inaction!" "Confusion!" "Digression!" and "Delusion!" all soar across the screen, as Rainbow sings the words out. And when a photo of Obama appears, the word that accompanies it?
"Obsession!"
"Make America great again, right?" Trump asks, referencing his 2016 campaign slogan.
Rainbow's rejoinder?
"Recession!"
Watch the full video below.
Kilian Melloy serves as EDGE Media Network's Assistant Arts Editor. He also reviews theater for WBUR. His professional memberships include the National Lesbian & Gay Journalists Association, the Boston Online Film Critics Association, The Gay and Lesbian Entertainment Critics Association, and the Boston Theater Critics Association's Elliot Norton Awards Committee.
Comments on Facebook