Rage Monthly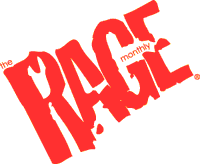 Check out Rage at ragemonthly.com.
See this film, learn something about how we got to where we are now. There is still work to be done, yes, but because of this moment and many others, we have come so very far.
When "Will & Grace" premiered on NBC back in 1998, it offered television audiences something they hadn't previously seen on a big three network (gasp), a relationship between a gay man and his straight female friend.
Even if you don't know James Lecesne, you've heard of his work. He wrote the short film "Trevor," which won an Academy Award and inspired the founding of The Trevor Project. Read about his one-man play!
Standard home landscapes of yesteryear were dominated by big thirsty lawns and plantings, but these days, people are moving toward more thoughtful designs that extend their living and entertaining into the outdoors.
From same-sex lovers, to single 20-somethings living on their own or with roommates of different nationalities, to widows or widowers forced to live on their own, anyone can make a home.
This host/designer/ home expert is unendingly energetic, completely disarming, downright charming and, last but not least, has a wicked sense of humor.
"Tribes" is the story of a young deaf man finding bonds other than those of his hearing family. The Rage Monthly caught up with Chance Theater's Managing Director Casey Long to chat about the play.
When you're house hunting, location is key. But once you've settled in it's all about the nesting urge -- here are some practical decor suggestions.
The Newport Beach Wine & Food Festival (NBWFF) is the most exclusive, intimate, and world-class epicurean lifestyle event in Southern California.
Perhaps it goes without saying that you are going to be happiest in a house that fits you. The concept is literally called "Person-Environment-Fit." If the fit is good, you will thrive and stay there for a long time.
Diversionary Theatre's Executive Artistic Director Matt M. Morrow is at it again, calling attention to theatre's newest voices - and to a play called "Homos, or Everyone in America."
We are committed to continuously searching out new and innovative ways to bring the message of empowerment to all.
The Center Theatre Group is taking on the world premiere of playwright Paul Rudnick's "Big Night." Star Luke MacFarlane shares his thoughts.
As members of the LGBTQ community, we have a deep understanding of what it is to struggle against being different and having to fight against that isolation and its oppressive nature.
This September, Lambda Archives proudly celebrates 30 years of preserving San Diego's LGBTQ community history.
Pentatonix's Kirstin Moldonado stands out because of her intelligent musicianship and superb vocal prowess. Decidedly adult, absolutely alluring, her recent solo venture is filled with both emotional and musical maturity.
The famed musical is up on its toes and on the stage at Downtown San Diego's Civi Theater during the month of September.
When "Kiss of the Spider Woman" scurries into the Welk Resort Theatre to begin its eight-week run this September, it marks a decidedly different spin for the venue.
Now in its 24th year, Long Beach's Q Film Festival has grown to become one of the seaside city's preeminent social events.
Something prideful this way comes... Specifically, the South Bay Pride Art and Music Festival!