Gay Fire Island: The Latest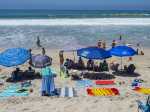 The U.S. has dipped under 50,000 new daily infections for the first time in four days, according to a tally by Johns Hopkins University, but experts fear celebrations for the July 4th weekend will increase nation's surging coronavirus outbreak.
On a day meant for unity and celebration, President Trump vowed to "safeguard our values" from enemies within — leftists, looters, agitators, he said — in a Fourth of July speech packed with all the grievances and combativeness of his political rallies.
Stone Mountain's supersized sculpture depicting Gen. Robert E. Lee, Confederate President Jefferson Davis and Gen. Thomas J. "Stonewall" Jackson mounted on horseback has special protection enshrined in Georgia law.
Johnny Depp's lawyers have failed to stop the American actor's ex-wife, Amber Heard, from attending his libel trial against the British tabloid newspaper The Sun until she is called to give evidence.
Vice President Mike Pence has long played the straight man to Donald Trump, translating the president's bombast into more measured, calming language.
After a three month hiatus from social media, RuPaul has deleted her Twitter account and scrubbed his Instagram account. And no one knows why.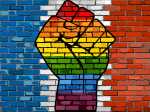 While the French capital's official Pride event was delayed until November to prevent spread of the coronavirus, grassroots groups plan a march through Paris anyway Saturday — led by people of color.
Statues are being taken down throughout the country for political reasons. But what is surely the most unusual instance of a statue — in this case one of a seven-foot wooden penis — being taken down happened in upstate New York last month.
On Independence Day, we Americans — if there is in fact a "we" in American life — celebrate the anniversary of a time when a lot of people, feeling really angry and scared, decided to do something about it.
EVO3 CBD Oils has demystified a rapidly evolving industry with high-quality, lab-tested products that can be traced to the source.
In NASCAR, the colorful paint schemes on the stock cars themselves have taken a decidedly political turn in recent weeks — and will again this weekend.

Bachata singer Prince Royce says he got a wake-up call with a COVID-19 diagnosis and now he wants to try and wake others too.
As the coronavirus spreads in Africa, it threatens in multiple ways those who earn their living on the streets — people like Mignonne, a 25-year-old sex worker with HIV.
Google is served with the vast majority of "geofence" warrants because it stores information from millions of devices in a massive database known as Sensorvault.

Some newly unemployed people are taking advantage of special enrollment periods to sign up for plans offered on the Affordable Care Act's insurance marketplaces, while others find they qualify for Medicaid.
With summer in full swing, we typically see car dealerships heavily discounting excess inventory for the Fourth of July holiday. But the novel coronavirus and its effects make this year different than most.
Pride means more than rainbow T-shirts, especially for these innovative LGBTQ designers who are redefining what it means to be fashion-forward for the next generation.
The U.S. headed into the Fourth of July weekend with many parades and fireworks displays canceled, beaches and bars closed, and health authorities warning that this will be a crucial test of Americans' self-control.
High rollers can once again return to Las Vegas for all the glamour and glitter that Sin City has to offer. Given the current pandemic, bathing in luxury has become a semi-private affair.
"We're resilient. I do believe we'll recover," says Chicago nightclub owner and LGBTQ community advocate Mark Liberson. "It's just a matter of when. Remember, the last pandemic led into the Roaring 20s."