Gay Fire Island: The Latest
On Independence Day, we Americans — if there is in fact a "we" in American life — celebrate the anniversary of a time when a lot of people, feeling really angry and scared, decided to do something about it.
EVO3 CBD Oils has demystified a rapidly evolving industry with high-quality, lab-tested products that can be traced to the source.
In NASCAR, the colorful paint schemes on the stock cars themselves have taken a decidedly political turn in recent weeks — and will again this weekend.
The Alabama Department of Public Health said it could not verify reports of so-called COVID-19 parties where students deliberately tried to become infected, but also warned people not to try it.
"Anytime we get together as a community, it allows us to celebrate ourselves in safety with others," says DJ Nina Flowers. "I believe that space is still needed."
Humans don't naturally create Omega-3 so it is recommended we eat at least two portions of fish per week, including one of oily fish.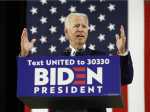 On an average day, President Donald Trump sends about 14 posts to the 28 million Facebook followers of his campaign account. His Democratic rival, Joe Biden, delivers about half that many posts to an audience of just 2 million.
While public health officials are urging Americans to avoid large crowds and hold more muted Independence Day celebrations amid a spike of coronavirus cases, President Donald Trump is going big.
At the foot of Mount Rushmore and on the eve of Independence Day, President Donald Trump dug deeper into America's divisions by accusing protesters who have pushed for racial justice of engaging in a "merciless campaign to wipe out our history."
Bachata singer Prince Royce says he got a wake-up call with a COVID-19 diagnosis and now he wants to try and wake others too.
For many Americans, the Fourth of July will be more intimate this year. It also could be riskier.
Grammy-winning singer Kacey Musgraves and her musician-husband, Ruston Kelly, have filed for divorce.
None of these are legit, even though they were shared widely on social media. The Associated Press checked them out. Here are the facts.

April and May brought the deadliest stretch of COVID-19 to date. And this past week, the number of new coronavirus cases per day hit an all-time high of 50,000. The message all along the way: "It's under control."

Some newly unemployed people are taking advantage of special enrollment periods to sign up for plans offered on the Affordable Care Act's insurance marketplaces, while others find they qualify for Medicaid.
With summer in full swing, we typically see car dealerships heavily discounting excess inventory for the Fourth of July holiday. But the novel coronavirus and its effects make this year different than most.
Pride means more than rainbow T-shirts, especially for these innovative LGBTQ designers who are redefining what it means to be fashion-forward for the next generation.
The U.S. headed into the Fourth of July weekend with many parades and fireworks displays canceled, beaches and bars closed, and health authorities warning that this will be a crucial test of Americans' self-control.
High rollers can once again return to Las Vegas for all the glamour and glitter that Sin City has to offer. Given the current pandemic, bathing in luxury has become a semi-private affair.
SF Pride may have been canceled but community leaders Juanita Moore! and Alex U. Inn planned a march along the original Pride route followed by a rally and a second march to the Castro to show support for the black and brown members of the LGBTQ Community