Gay Fire Island: The Latest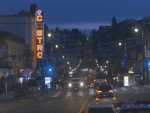 The B.A.R. has been immortalized in films and TV series. But this is new; a poem about our famous 'No Obits' headline has been set to music.
A scholarly paper based on surveys of gay and bisexual men finds that while PrEP use has increased, only a fraction of men who have sex with men have taken it up — and a third of those abandon PrEP over time.
Chick-fil-A hit a roadblock this week in an effort to open a new location in Castro Valley. But was it traffic concerns or the company's stance on LGBTQ issues that ruffled the Castro Valley Municipal Advisory Council's feathers?
Armie Hammer is trending on social media this week... for all the wrong reasons.
Out Division One basketball coach Matt Lynch gave an update about his life post-coming out after he embraced authenticity last April.
It's no great surprise that haters took aim at the recent LGBQ-inclusive ad for Cadbury's creme eggs, but one of the models in the ad isn't putting up with what he notes is a double standard.
From marriage and family therapists to celebrities like Tom Ford and Alan Cumming, everybody has an opinion about monogamy. A new study highlights the variables that make (or break) a successful relationship.
'RPDR13' contestant Joey Jaye posted a pic with a curious tattoo on his arm with X-rated connotations.
After ugly accusations on social media, Armie Hammer drops out of upcoming film co-starring Jennifer Lopez.
LGBTQ and gender inclusiveness on television has retreated slightly this season due to delays and shutdowns caused by the COVID-19 pandemic, according to a new study out Thursday by the advocacy group GLAAD.
A three-hankie ad from Doritos tells the true story of a single dad who gets advice online about how to talk to his gay son after realizing that the college friend the son has invited home is more than just a buddy.
This haunting tale of revenge features a must-see performance by Carey Mulligan.
As vaccinations continue across the U.S., some companies are offering financial incentives to encourage their workers to get the shots.

If you're an identical twin who's always resisted being called a clone of your sibling, scientists say you have a point.
After the train wreck that was 2020, you may well question whether it's worth trying to plan anything. But knocking off a few financial tasks early in the year can better prepare you for whatever 2021 has in store.
Early signs suggest an upcoming year of increasing market share for electric cars as EU regulations drive their adoption.
The grooming guru recently announced a new haircare brand in collaboration with beauty brand Biossance's parent company, Amyris, to develop his own collection.
The rapid expansion of COVID-19 vaccinations to senior citizens across the U.S. has led to bottlenecks, system crashes and hard feelings in many states because of overwhelming demand for the shots.
Britain's government has banned travel from South America and Portugal to ensure a new variant of COVID-19 found in Brazil doesn't derail the country's vaccination program, although there are no signs the variant has reached the U.K.
The term "sexual fluidity" has come under scrutiny as researchers further explore the nuances our sexual expression, attraction and behavior.