Gay Fire Island: The Latest
Luke Evans shared a number of hot IGs this past weekend, along with sharing a scary experience while filming in Columbia.
Kenworthy will compete in the free ski halfpipe at the Winter Olympic Games in Beijing for Great Britain.
In an interview with "Good Morning America," "Jeopardy" champ Schneider said that being able to represent the transgender community on TV has been her true victory.
When Seth Sikes moved to NYC 20 years ago, he wanted to be an actor; but discovered that cabaret was a better fit for his belting style, largely thanks to Judy Garland. EDGE spoke to Sikes about his career.
Using genetic material to produce an immune response has opened up a world of research and potential medical uses, including mRNA and DNA vaccines.
An unvaccinated Sarah Palin tested positive for COVID-19 Monday, forcing a postponement of the start of a trial in her libel lawsuit against The New York Times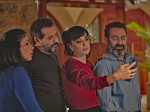 With its Arabic remake of "Perfect Strangers," Netflix has sparked furious claims of "promoting homosexuality" and "perversion" from conservatives, while reaping critical plaudits.
Out celeb JoJo Siwa commemorated the first anniversary of her coming out with a post that shared, once again, the photo of Siwa in a "Best Gay Cousin Ever" T-shirt that got the internet chattering.
Chasten Buttigieg critiqued a Florida measure that would force teachers to out LGBTQ+ students and ban classroom discussion around sexual and gender identity.
The actor playing Harry Potter has been fired from the Broadway production of "Harry Potter and the Cursed Child" following a complaint by a co-star about his conduct.
French fashion designer Manfred Thierry Mugler, whose dramatic designs were worn by celebrities like Madonna, Lady Gaga and Cardi B, has died. He was 73.
The Criterion Collection presents Thomas Vinterberg's 1998 Cannes stunner "The Celebration" on Blu-ray with a features-packed edition that makes this lo-fi work feel more magisterial than ever.
A cruise ship that was supposed to dock in Miami has instead sailed to the Bahamas, after a U.S. judge granted an order to seize the vessel as part of a lawsuit.
A consumer group claimed to have found that Tinder is charging gay and lesbian users more — by as much as nearly 50% — but has since retracted that accusation.

For the first time in half a year, families on Friday are going without a monthly deposit from the child tax credit.
The experts at Edmunds have compiled a list of the five hottest vehicles that will arrive at dealerships in the next six to nine months.
Starting this year, the UAE shifted its weekend to align with global markets and Western schedules. Now locals wonder when to have their hours-long affair of seafood, pizza, dessert and Veuve Clicquot.
Three studies released Friday offered more evidence that COVID-19 vaccines are standing up to the omicron variant, at least among people who received booster shots.
EDGE offers six of our favorite LGBTQ+-friendly Valentine's Day getaway ideas, even though any day is an excuse for a romantic weekend.
Mad Angel Entertainment presented the 49th celebration of the Miss Gay America pageantry at the Robinson Theatre in Little Rock, Arkansas. Congratulations to Dextaci who was crowned Miss Gay America 2022.