1 thru 10 of 5400 Stories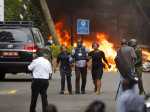 Extremists stormed a luxury hotel in Kenya's capital on Tuesday, setting off thunderous explosions and gunning down people at cafe tables in an attack claimed by Africa's deadliest Islamic militant group.
A gay couple appeared in court Jan. 11 to enter a guilty plea to charges stemming from an alleged threesome that took place aboard a London subway car in February of 2017.
President Donald Trump's Cuba policy is driving hundreds of millions of dollars from the island's private entrepreneurs to its military-controlled tourism sector, the opposite of its supposed goal, new statistics say.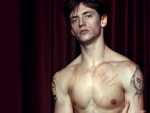 "Take Me to Church" dancer Sergei Polunin's homophobic social media posts and public praise of Russian president Vladimir Putin reportedly lost him a plum dance role in Paris.
Global shares were mostly higher Tuesday as British lawmakers prepared to vote on a Brexit deal that has drawn strong opposition at home.
A strike by security staff at eight German airports on Tuesday is causing travel chaos for tens of thousands of travelers.
The founder of network gear and smart phone supplier Huawei Technologies says the tech giant would reject requests from the Chinese government to disclose confidential information about its customers.
The sister of slain Brazilian councilwoman Marielle Franco on Monday expressed concern about the conservative new governor's commitment to solving the case.
Flags flew at half-staff and people signed condolence books at municipal buildings across Poland and in diplomatic missions abroad on Tuesday as the nation mourned the stabbing death of the popular liberal mayor of port city Gdansk.
Back in December 2017, Trump gave companies a gift when he signed a measure that slashed the corporate tax rate from 35 percent to 21 percent. The next month, though, he started slapping tariffs on imports - leaving them at a competitive disadvantage.
1 thru 10 of 5400 Stories