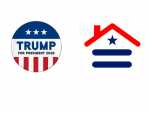 The Log Cabin is getting emptier, even as conservatives can barely bring themselves to mention the endorsement that the national group of LGBTQ conservatives gave Donald Trump.
Republican candidate for Louisiana governor Ralph Abraham has released a new TV ad that takes aim at abortion rights and the transgender community as he works to draw attention for his campaign.
About 6 in 10 Americans disapprove of President Donald Trump's overall job performance, according to a new poll.
Much of the nation's LGBTQ community was incensed when the Log Cabin Republicans, an LGBTQ conservative group, endorsed Donald Trump for next year's presidential elections, but one LCR board member quit over it.
Democrats vowed last year to make Republican Sen. Susan Collins pay for her vote confirming Brett Kavanaugh to the Supreme Court. Republicans declared they would have her back. Neither has forgotten its promises.
Baggy Buttigieg? That is the nickname that designer Tom Ford could give Presidential candidate Pete Buttigieg (or Mayor Pete) after the candidate's team rejected his fashion advice.
U.S. Sen. Mitt Romney said Monday that he believes climate change is happening and human activity is a significant contributor.
The GOP has seen once-reliable suburbs turn competitive as women worry about their children's safety and bristle at Trump's harsh rhetoric on race and immigration, and they embraced Democratic alternatives in last year's midterm elections.
Doctors and public health experts warn of poor health and rising costs they say will come from sweeping Trump administration changes that would deny green cards to many immigrants who use Medicaid
Democratic presidential candidate Elizabeth Warren offered a public apology Monday to Native Americans over her past claim to tribal heritage, directly tackling an area that's proved to be her biggest political liability.