1 thru 10 of 1725 Stories
Ernest Angley, a notoriously anti-LGBTQ televangelist, can be heard discussing a sexual encounter with another man on recently released audio recordings made two decades ago, multiple media outlets report.
The Vatican received information in 2015 and 2017 that an Argentine bishop close to Pope Francis had taken naked selfies, exhibited "obscene" behavior and had been accused of misconduct with seminarians.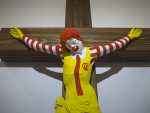 An art exhibit in Israel featuring a crucified Ronald McDonald has sparked protests by the country's Arab Christian minority.
A conservative Christian law firm that has pushed religious issues in multiple states urged a U.S. judge on Friday to block Alaska's largest city from requiring a faith-based women's shelter to accept transgender women.
The Episcopal Church on Friday cleared the way for same-sex marriages in an upstate New York diocese where they had been barred by a bishop who claimed the church had been "hijacked by the "Gay Rights Agenda."
The key accuser in the sex abuse case against ex-Cardinal Theodore McCarrick has met with New York City prosecutors.
Though the "Justice for Victims of Lynching Act," as the measure is called, passed the Senate in December 2018, without a single vote in opposition, Liberty Counsel wants the bill in its current form to go down in defeat.
The Texas church whose pastor resigned after "being with prostitutes" lost no time in getting a brand new pastor - with the same violently extreme anti-LGBTQ views.
Thousands of Orthodox Christian worshippers plunged into icy rivers and lakes across Bulgaria on Sunday to recover crucifixes cast by priests in ceremonies commemorating the baptism of Jesus Christ.
The Vatican has confirmed that an Argentine bishop, who resigned suddenly in 2017 for stated health reasons and then landed a top administrative job at the Holy See, is under preliminary investigation after priests accused him of sexual abuse.
1 thru 10 of 1725 Stories