1 thru 10 of 1285 Stories
Sunday night's game between the New England Patriots and Kansas City Chiefs was the second-most watched and rated AFC championship game in 42 years.
More South Korean female skaters are accusing their coaches of sexually abusing them.
The duo, every bit as formidable now as when they won that first title, face the Rams, now back in Los Angeles, in a Super Bowl rematch of sorts that pits the NFL's past against its future.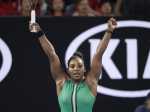 Williams wrapped up her 6-1, 4-6, 6-4 victory over Halep in a contest filled with momentum swings and fantastic play by both, it was clear which woman really is No. 1.
Gladys Knight will sing "The Star-Spangled Banner" at this year's Super Bowl.
The rules that govern recreational marine fishing in the U.S. will get an overhaul due to a new law passed by Congress, and the country's millions of anglers and the groups that stake their livelihoods on them hope the changes will bring better management
Tom Brady recognizes that there are some who believe the Patriots are nearing the end of their run of unprecedented playoff success. New England took its first step toward possibly silencing those voices for a little longer.
Saints coach Sean Payton dismisses the premise that the Eagles could derive extra motivation from the widespread perception that New Orleans ran up the score on them when they met in November.
Brady, who will be 41 years and 163 days old, and Rivers, at 37 years and 36 days old, will combine to be the oldest pair of quarterbacks to face each other in an NFL playoff game, breaking the mark Brady held with Peyton Manning.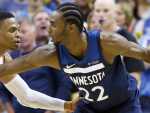 Saying he respects the gay and lesbian community, Minnesota forward Andrew Wiggins tried Wednesday to clarify comments he made about Oklahoma City Thunder guard Dennis Schroder's behavior during a heated game.
1 thru 10 of 1285 Stories