Finnish elite hockey star Janne Puhakka hung up his skates in 2018, in part because he was afraid of being found out as gay. But in advance of a special Pride-themed match, he burst out of the closet.
President Donald Trump is welcoming the World Series champion Nationals to the White House with a ceremony on the South Lawn.
Men's luxury footwear brand Wolf & Shepherd released its latest shoe — the Crossover — in collaboration with two-time NBA MVP Steve Nash.
Two Rutgers softball coaches, a husband and wife, have been accused of fostering a climate of fear, intimidation and abuse on the team.
President Donald Trump's low-profile appearance Sunday night at Game 5 of the World Series came at a high-profile moment of his presidency. Yet he still drew loud boos and jeers when introduced to the crowd.
President Donald Trump's plan to attend Game 5 of the World Series on Sunday will continue a rich tradition of intertwining the American presidency with America's pastime.
Openly gay wrestler Jack Atlas has reportedly been recruited by WWE, with media sources saying he has inked a development contract.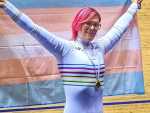 Transgender athlete Rachel McKinnon became the wold champion at the UCI World Masters Track Cycling Championships in Los Angeles over the weekend and her win sparked Donald Trump Jr. to lash out against her on Twitter.
An emotional Michael Jordan unveiled the first of two medical clinics he and his family funded to provide care to underprivileged members of the community.
Welcome to the new-look NBA, in which women's footprints are directly impacting every aspect of the game — from broadcasting booths, to officiating, coaching on the sidelines, front-office executives to ownership.