Top Story
When people hear the name Ed Hardy, they likely think of the flashy, tiger- and skull-emblazoned clothing that rocketed to popularity in the 2000s, appearing on the likes of Paris ...
Nyle DiMarco, the queer winner of "America's Next Top Model" and "Dancing with the Stars," is the latest celeb to use the popular FaceApp — an app that radically transforms selfies — and his pics are going viral.
Mexicans are dismayed by continued increases in the price for avocados, a staple of the country's cuisine.
After thrusting their arms in victory at the finish line, Tour de France stage winners are greeted by hostesses on the podium. As well as the yellow jersey, the Tour de France race leader is usually handed flowers and a fluffy lion.
Barbie has been many things over the years. Now, she's dressed as Ziggy Stardust.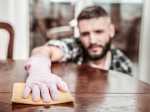 You vacuum it, sweep it and wipe it off your furniture. But do you know what it actually is — and how it may affect your health?