1 thru 10 of 3893 Stories
Anna Wintour paid tribute Friday to Karl Lagerfeld's generosity and sense of humor as she presented a new fashion exhibition
The failing Payless ShoeSource chain will honor gift cards and store credit until March 11 as the company liquidates all operations.
Gucci creative director Alessandro Michele says the blackface controversy has had a deep impact on the company and provided a learning experience for everyone.
The chief executive and chief creative officer of luxury fashion powerhouse Burberry have apologized for putting a hoodie with strings tied in the shape of a noose on their London Fashion Week runway.
Couturier Karl Lagerfeld, who died Tuesday, was almost as famous for his biting and often controversial quips as he was for his fashion designs. Here are a few of his memorabale quotes: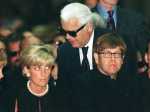 Some reaction to the death of fashion designer Karl Lagerfeld.
Fashion enthusiasts are sharing their favorite images of the iconic designer.
The traditional Italian hat maker Borsalino, whose fedora has defined the rough-and-tumble images of Robert Redford and Humphrey Bogart, has a plan to appeal more to women and millennials by pushing into high-end fashion, streetwear and even sportswear.
Over the long weekend, pop singer Shawn Mendes shared photos from his new Calvin Klein campaign — and Twitter users did not hold back their reactions to the eye-popping pics.
Chanel's iconic couturier, Karl Lagerfeld, whose accomplished designs as well as trademark white ponytail, high starched collars and dark enigmatic glasses dominated high fashion for the past 50 years, has died. He was around 85 years old.
1 thru 10 of 3893 Stories