Winegrowers in southern Oregon faced financial ruin after a California winemaker claimed wildfire smoke tainted their grapes and refused to buy them. Now, the rejected fruit that was turned into wine by local vintners is facing another setback.
Whiskey makers are used to long waits, but restoring a 19th century building took a Kentucky distillery longer than most bourbons need to mature.
Martha Stewart gets tips on how to cook Chinese broccoli from James Beard-nominated chef Anita Lo.
Archaeologists have found wine cellars dating back to the Greco-Roman period in Egypt's Nile Delta.
If you're focusing on your eating habits in 2019 then be mindful of the clock striking 2:41 p.m.
A Washington state baker is apologizing for a politically charged Valentine's Day cookie that generated an uproar on social media.
Everyone has a favorite sandwich, often prepared to an exacting degree of specification: Turkey or ham? Grilled or toasted? Mayo or mustard? White or whole wheat?
Sweethearts — those chalky little candies with messages on them — won't be on store shelves this Valentine's Day.
Robots aren't replacing everyone, but a quarter of U.S. jobs will be severely disrupted as artificial intelligence accelerates the automation of existing work, according to a new Brookings Institution report.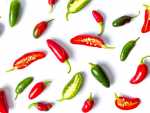 If you prefer spicier food, there's a good chance you also lead a spicier life, according to new research.